'More than 50% people feel happier'
By Lillian Liu (HK Edition)

Hong Kong people are happier and more confident about economy than they were 10 years ago, a survey by the Nielsen Company found.
More than 50 percent Hong Kong people are happier and two-fifth of them are more confident about the economic outlook. The younger generation is the most optimistic among them, the survey said.
Most of the respondents say their personal financial situation had improved since Hong Kong's reunification with the motherland, with half of them noting an increase in monthly income over the past 10 years. And 40 percent see a more positive sentiment in the Hong Kong market than before.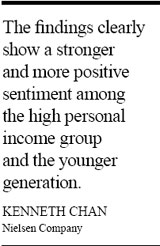 The Nielsen Company, a Dutch media conglomerate, interviewed more than 1,000 Hong Kong people aged between 18 and 54 in May. The online survey focused mainly on the city's changing attitudes toward life and improved market sentiment since 1997.
Nielsen, the parent company of famous international marketing research firm AC Nielsen, found that over 60 percent of the city people have a pretty decent income - HK$20,000 or more.
About 42 percent of Hong Kong people are confident about the home market in the years to come.
"The findings clearly show a stronger and more positive sentiment among the high personal income group and the younger generation. Not only are the rich getting richer, but they are also the happiest crowd among all income groups," said Kenneth Chan, Associate Director, for customized research in Nielsen.
The group reveals that Hong Kong consumer sentiment is at an all-time high, and high technology has well shaped people's daily life.
A decade ago, some 35 percent consumers in the city had mobile phones, but the number has jumped to 95 percent now. That means nearly all Hong Kong people can be reached by the cell phones today. And 81 percent own a desktop computer against 38 percent 10 years ago.
About 58 percent people have digital cameras now, double that of four years ago.
"The past decade has been historic for Hong Kong, not only because 2007 marks 10 years since Hong Kong came under the Chinese sovereignty but also because Hong Kong people have experienced roller coaster ride in lifestyle over the same period," Chan said at press briefing yesterday.
The Nielsen report also indicated that Hong Kong consumers have become more health conscious and convenience-driven than before.
A global aging trend, various concerns about health and tough working conditions in the past decade have been wake-up calls for many consumers, who have become more health conscious.
However, fast-paced Hongkongers are more relying on fast food and quick service, giving rise to the awareness in health concept and the rapid development of convenience stores.
(HK Edition 06/29/2007 page6)