'It's like a home away from home'
By Teddy Ng (HK Edition)

As Hong Kong is ready to celebrate the 10th anniversary of its return to the motherland, Brian Hodgson, who has been living in the city for the last 17 years, recounts his experience about how the city has evolved since 1997 and the remarkable resilience of Hongkongers.
Auctioneer Hodgson, a British, who came to Hong Kong in 1990 after a three-year stay in Australia, said the reunification has not weakened his confidence about the city. He is also impressed by Hong Kong people's positive attitude.
Things were initially tough, Hodgson recalls, as he used to get only HK$4,000. But he soon got used to the life in the city and decided not to go back to the UK.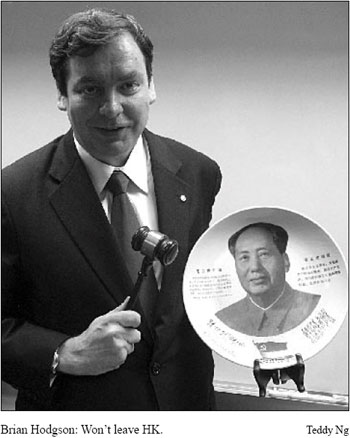 He earlier worked as an advertising sales executive and is now engaged in an auction business.
"People of Hong Kong are more positive compared to those in England. They are eager to try different things. But in England I didn't see this spirit. I admire Hong Kong people's 'can-do' attitude," he said.
Recalling how his friends were pessimistic about Hong Kong before the reunification, Hodgson said many had just written off the SAR but he decided to stay.
Talking about the economic downturn when unemployment rate was high, he said he was surprised how Hong Kong people faced up to the crisis with equanimity and without resorting to crimes.
"When there's depression in England, people may turn to aggression. In Hong Kong, even when people were facing the worst time during the SARS outbreak, they still thought things will look up," Hodgson said.
Praising Hong Kong people's business-oriented attitude, he said restaurants would still serve customers even after the end of business hours. The people are more efficient and proud of themselves.
"People in Hong Kong don't rely on the government. In England, they have a good social welfare, but people rely on the government. I know people who have never worked for 20 years because the government will pay them. Here people don't dream of depending on the government," he said.
Speaking about his auction business, Hodgson says even though he hasn't had good business as yet, he is not worried. "If you fail, it doesn't matter and you can try again," he said.
The auctioneer is also deeply connected to the local culture and would not send his children to overseas for education.
He even shifted his children from an international school to another that stresses the importance of Putonghua.
Where would Hodgson send his children for studies in future? "It would be better if I could send my children to Peking University or Tsinghua University on the mainland," he said.
(HK Edition 06/29/2007 page6)