Memories linger on of crisis times
By Wu Jiao (China Daily)

Ten years might not be a proper time for retrospection, but memories do not fade easily.
Joseph C.K. Yam, chief executive of the Hong Kong Monetary Authority, is one of the many Hongkongers who have experienced critical periods in the region's history, and has much to reflect upon.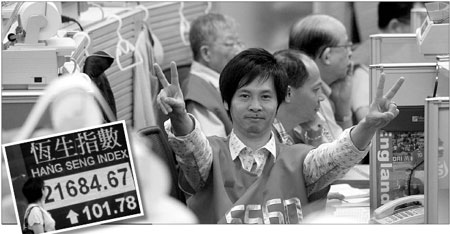 A trader gives a victory salute after record highs on the Hong Kong Stock Exchange on Monday. The Hang Seng Index closed up 565.84 points at 21,582.89. [AFP]


A firm believer in a free market economy, Yam always sang the praises of Hong Kong's economic system.
But one day in 1998, the free market disciple suddenly found himself cornered and had to intervene.
A financial crisis swept Southeast Asia in 1998, and Hong Kong, a small, open economy, could not escape from it.
With negative GDP growth in the first two quarters of 1998, Hong Kong experienced its first recession since 1986.
Asset deflation, property prices plunging 50 percent, and unemployment at more than 5 percent, Hong Kong's economy was severely affected.
What made matters worse was that speculative funds attacked the Hong Kong dollar several times pushing up interest rates. It led to depreciation in currency, and fixed assets.
The Hong Kong government was forced to intervene in the foreign exchange and stock markets.
"It was difficult for a firm believer in a free market economy to interfere. I felt so sad at the time," said Yam in a recent interview with Chinese media.
"But it was no longer a free market because of the manipulation. We decided it was time to act," Yam said.
The efforts of Yam and his colleagues saved Hong Kong's economic system from going down the drain.
Donald Tsang, the then financial secretary, admitted that the decision to intervene in the market, had led him to tears.
Hong Kong's return to the motherland under the "one country, two systems" model initially raised some political doubts, which preoccupied the minds of the people who thought less about the economy.
The thought of a long-term economic recession had never occurred to them, until the Asian economic crisis.
This was followed by the September 11 attack on America in 2001 and the outbreak of SARS in 2003.
But Hong Kong has managed to withstand it all.
Ten years after its return, the economy still remains the freest in world, for 13 successive years, according to ratings of several international organizations.
It has registered an average GDP growth of 7.6 percent for the past three years.
Last year, it recorded the second largest number of initial public offerings in the world, second only to London. Also, it remained one of the key banking centers in the world, registering 138 banks.
Its status as one of the world's busiest air and shipping hubs has also been enhanced. It handled the most number of containers between 1992 and 2006. Logistics turnover has also increased, contributing 5.2 percent to Hong Kong's total economic output in 2006.
Most notably, it has also succeeded in shifting from a light manufacturing economy to a service-oriented economy. The service industry contributed 90.7 percent of its GDP.
Hong Kong's return to the motherland has in no way affected its vigor. In fact, it has increased.
Its free economy, sound legal system, and effective market supervision have been key factors contributing to its success.
The recovering world economy, especially the rocketing economic growth of the Chinese mainland, has added impetus to Hong Kong's growth.
However, there are few problems.
While its economy fuels a growing population of ultra-rich, the disparity between the rich and the poor has widened.
In a study by Oxfam and the Chinese University, the number of "working poor", or those living on less than HK$5,000 ($640) per month, or half of Hong Kong's median household income, had grown to about 350,000 or 5 percent of the population in 2006.
Donald Tsang, the chief executive of the Special Administrative Region, listed the widening income gap as one of the key problems the government has to tackle in a recent public speech.
Also, after years of evolution and maturity, Hong Kong is facing difficulty in finding new economic growth sectors.
And what does the future hold for this former fishing village? The answer lies with the people of Hong Kong and the motherland.