I love shopping in HK - Mok
(Xinhua)

KUALA LUMPUR -- Hong Kong star Karen Mok here on Thursday participated in celebrations for the 10th anniversary of HK's return to the motherland.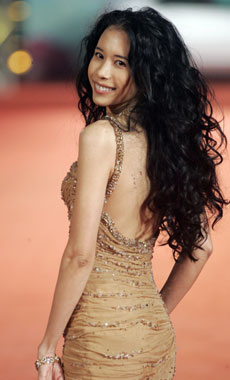 Hong Kong actress Karen Mok poses at the Star Boulevard during the Golden Horse Award in Taipei November 25, 2006. [Reuters]
She said before HK's return to the motherland in 1997, Hong Kong stars only paid attention to the local market. However, they have more chances to cooperate with their counterparts in the Chinese mainland in the past 10 years, which could help boost their career.
"Mr. Cinema", a film Mok took part in, reflects the event and is showing in Hong Kong and the mainland.
Mok said she is also in Malaysia to promote 2007 Hong Kong Shopping Festival, which will be held from June 30 to August 31.
To promote the event, the 37-year-old star also introduced her experience of shopping in Hong Kong.
"Hong Kong itself is a huge shopping mall. Tourist can see the shopping mall as soon as they get off the plane," she said.
Mok said she loves shopping in Hong Kong's Central, which has the biggest shopping mall in Hong Kong. She also likes shopping in Ladies' Street, which is distinctive from other shopping malls.
Mok said shoes are her favorite. She would buy seven to eight pairs of shoes when there was a discount, so she had hundreds of pairs of shoes.
She suggested that tourists have minds and impulsion when shopping in Hong Kong.
During the festival, "Le Le" and "Ying Ying", the panda couple given as gifts by China's Central Government for the 10th anniversary, will show in Hong Kong's Ocean Park, she said.