Thatcher: Fears about HK proved groundless
(AP)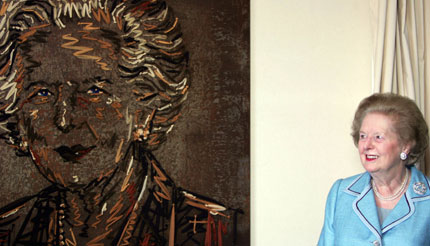 Britain's former Prime Minister Margaret Thatcher attends the unveiling of her new portrait by artist Benjamin Shine at the Dorchester Hotel, in London August 1, 2006. The piece is made of iron and silk chiffon in reference to her nickname "The iron lady". [Reuters]


LONDON -- Former Prime Minister Margaret Thatcher has said her fears that Hong Kong's economy could not prosper after the handover have proved to be largely groundless.
She said she has not been disappointed by Hong Kong's development since Britain handed over the former colony to China a decade ago.
"I think we must be realistic," Thatcher said in a rare interview broadcast Tuesday by British Broadcasting Corp. radio.
"Let's think over a moment how great our private worries were about what would happen in Hong Kong after the handover. Now those worries have largely proved groundless."
Thatcher, an ardent advocate of free markets, said she believed that economic freedom could not thrive without political freedom. "But the pace at which this occurs will depend on what happens within China itself," she said.
Britain formally withdrew from Hong Kong on June 30, 1997.
Thatcher, who was prime minister when the deal on Hong Kong's future was signed in 1984, said the "one country, two systems" principal devised by former Chinese leader Deng Xiaoping was the key to an agreement about the colony.
"'One country, two systems' was developed some years earlier as an approach to the issue of Taiwan." Thatcher said, adding the practice at first did not seem to her as the way ahead for Hong Kong.
" What I wanted was a continuation of British administration. But when this proved impossible I saw the opportunity to preserve most of what was unique about Hong Kong by applying Mr. Deng's idea to our circumstances.
"In fact, I complimented him on his brilliance. It's often a good idea to tell people with whom you negotiate that they were right all along."
Thatcher, 81, has made few public comments or appearances since suffering a series of strokes five years ago. This month, however, she taped a message to British forces to mark the 25th anniversary of the Falklands War with Argentina, as well as being interviewed by the BBC.