Premier Wen writes back to HK student
(Xinhua)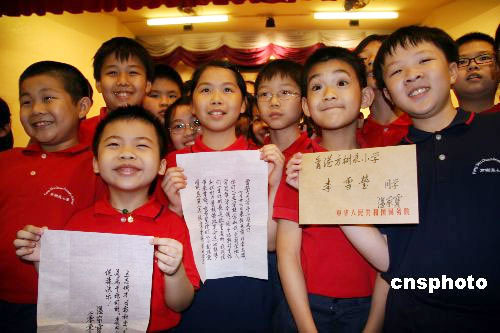 Primary school students in Hong Kong display the letter from Chinese Premier Wen Jiabao on Monday, June 4, 2007.[cnsphoto]
A Hong Kong primary school student has received a response from Chinese premier Wen Jiabao, who encouraged local students to study hard and told them that Hong Kong's future belongs to them.
The China News Service reported that the deputy director of the Central Government Liaison Office in Hong Kong, Li Gang, handed the letter to the student Li Xueying and her peers on Monday.
He said the letter, presenting the premier¨s care and expectation to Hong Kong primary and middle school students, was written tidily, in traditional Chinese, in order to facilitate their reading.
The five-grade pupil Li Xueying wrote a letter to the premier on April 26, in which she said she was touched by the central government's decision to increase the investment in education during the annual parliamentary session held in March. Also, Li Xueying invited the premier to her home when he next visits Hong Kong.
The girl comes from a not-particularly well-off family. In fact, she is only able to receive education thanks to the Hong Kong's relevant policies.