HONG KONG - Gong Li has worked with Chinese directors who don't use scripts and those who are keen on structure. She's also worked with Hollywood filmmakers. Now, the Chinese actress says she's ready for anything.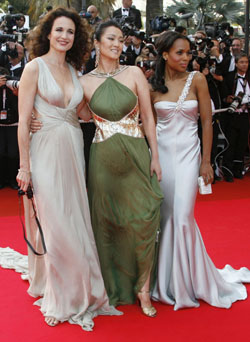 Actresses Andie MacDowell (L), Gong Li (C), and Kerry Washington arrive for the evening gala screening of Chinese director Wong Kar Wai's in-competition film "My Blueberry Nights" at the 60th Cannes Film Festival May 16, 2007. [Reuters]


"When I first started in the movie industry I worked with Zhang Yimou. He's the kind of director who has to figure everything out and have a very good script before he starts to shoot ... Later I worked with Wong Kar-wai. I was really challenged. Then I worked with Hollywood directors," Gong was quoted as saying in an interview with Hong Kong's Ming Pao Weekly magazine published over the weekend.
Hong Kong director Wong has a reputation for not using a script and improvising.
"Now I'm not afraid of anything," she reportedly said at the recent Cannes Film Festival.
Gong's credits include the Zhang-directed "Raise the Red Lantern," "To Live," Wong's "2046" and more recently, the English-language movies "Memoirs of a Geisha," "Miami Vice" and "Hannibal Rising."
Gong said despite Wong's unorthodox ways, she was reluctant to leave the set of the short film Wong shot for the movie "Eros."
"After more than 20 hours, I was thinking, 'I'm about to die. It'll be great when we finish.' The next 10-plus hours went smoothly. My scenes were finally done when it was nearly morning ... At that moment, I actually didn't want to leave, because I was totally immersed," she said.
Gong said she enjoyed Wong's new movie, "My Blueberry Nights," in which singer Norah Jones plays a New Yorker who tries to cure her broken heart with a cross-country road trip.
"I really liked the lives and desires of the characters. Wong Kar-wai has kept his color scheme," she said, an apparent reference to Wong's preference for moody colors.