A Chinese sex educator is appealing for the introduction of a movie ratings system "to purify" the Internet for the countries' youth.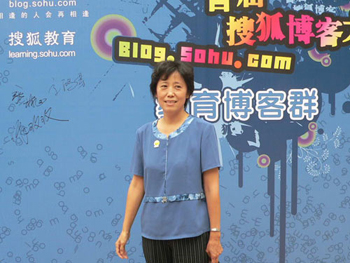 Sex educator Zhang Meimei. [file]
"Technically, China could bring in the system to guide our young people," said Zhang Meimei, director of the research center on the sex education at Capital Normal University.
She claims some 370 million sexually explicit Web sites on the Internet put the country's 20 million Internet users under the age of 18 at risk.
The Internet has spawned numerous pornography sites on the World Wide Web. And porn sites on the Chinese mainland always set up servers outside the country.
Zhang, who has studied sex education for 16 years, said Web sites should cater to the needs of juveniles and improve their environment because "it is impossible to block all the unhealthy information on the Internet."
"Information on these sites plays a key role in crimes involved with sex", she said, adding the prime task is to help young people improve their ability to judge what is right, and to control themselves when reading unhealthy content,"
Ministry of Public Security spokesman Wu Heping says as much as 80 percent of juvenile delinquency were caused by juveniles' exposure to sexually explicit Web sites all over the world.
China has the second largest Internet users of 144 million, only behind the United States.
"A large portion of crimes, including rape, racketeering, robbery, and theft, are committed by juveniles addicted to content on pornographic Web sites," said Wu.
"It is very difficult to inspect and filter sexually explicit sites," explained Kan Kaili, professor of the research institute for the information technology policy and development with the Beijing University of Posts and Telecommunications.
Kan said society must intensify the campaign of scrutiny and guidance on young Internet users, and to create a healthy environment for them.
China has recently launched a campaign to clean up the Internet. Law enforcement departments found and deleted over 60,000 posts and ordered the closure of more than 2,000 sites.