At auto shows in China, it's not the sky-high priced luxury cars that attract the visitors, but the models standing by the vehicles.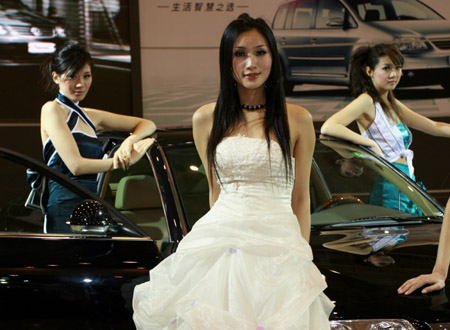 Models pose around a car at the Auto Qingdao 2007 exhibition in Qingdao, east China's Shandong Province, May 18, 2007. [Chinadaily.com.cn]
On the opening day of the Auto Qingdao 2007, visitors flocked around car models, and photographers took numerous pictures of them as they change to various poses in front of the cars. These beautiful showgirls, usually in short and sexy outfits, have quickly become an indispensable part of Chinese car exhibitions for years.
Men are attracted to beautiful women, but what surprises many is how crazy the auto show visitors could be for models. Unless the car is a 10-million-yuan Bentley or Maserati, there won't be big audience around the booth without gorgeous models.
It's rather an exhibition of beauties than cars. "I'm here to see beautiful girls. It would be dull and unattractive if they didn't have models," said a visitor at the Qingdao auto show.
Modeling isn't That Easy
In the eyes of most visitors, the job of a car model is literally "under spotlight" -- they show off their beauty and charm in every way before crowds of people, and they are able to make a lot of money just by smiling at cameras.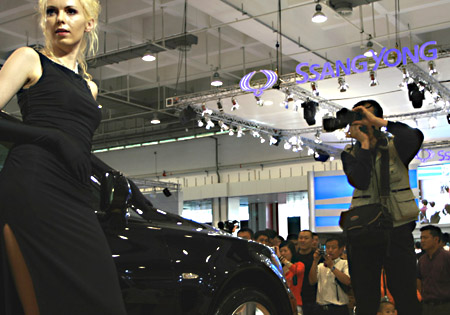 A model pose in front of a photographer at the Auto Qingdao 2007 exhibition in Qingdao, east China's Shandong Province, May 18, 2007. [Chinadaily.com.cn]
But some models don't agree with the visitors' perception of their work. "People don't see our hardship and effort put into the job," said Wang Fei, a model for the Chery cars who had been modeling since she was 14 years-old. She complained she has to stand all day long during the show and keep smiling at everyone, trying to showcase her best stance at any moment.
Besides, the strong flash on cameras make the models feel dizzy, and they have to be cautious when wearing sexy clothes and around sly photographers.
"I'm very careful when wearing short skirts. There are visitors who put their cameras at low angles and shoot upward," said Ke Er, another model. But she said she won't tell them to stop, but will change her pose instead.
In most cases, model management companies hire models and send them to auto shows as carmakers request them. The modeling agencies train them and find them work, but provide no social welfare and other guarantees during their labor contract period, which is usually for one year.
However, aspiring models need to meet the high requirements of these agencies.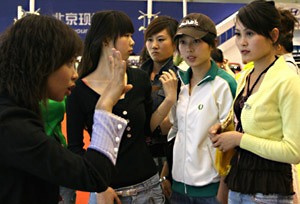 Car models listen to their manager at the end of a work day at an auto show in Qingdao, Shandong Province, May 18. [Chinadaily.com.cn]
"The figure, including chest size, waistline and hip size are key criteria," a model manager told China Daily website. She adds, "Height isn't as important now," but still, all the models are taller than 170 centimeters.
Many of the models aren't exclusive to one car producer or auto show. Some begin modeling when they are still school or college students, and most perform for other promotional activities between auto shows, though they can make quite a bit of money as a car model.
An organizer with the Qingdao Auto Show said top models at the recent Shanghai International Auto Show made 15,000 yuan a day, while most are paid on average one or two thousand yuan per day. Outside Shanghai and Beijing, however, car models earn less, with a daily income of just under 1,000 yuan.