China has appointed 54-year-old former ambassador to Norway Chen Naiqing as its special envoy on Korean Peninsula affairs, according to the Foreign Ministry.

Chen, a professional diplomat, joined the Foreign Ministry in 1974 and has been the ambassador to Norway since 2003.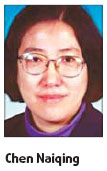 Her predecessor Li Bin was ambassador to the Republic of Korea (ROK) before being appointed envoy to Korean Peninsula affairs in September 2005.
The appointment of Chen, who works as a close aid to Vice-Foreign Minister Wu Dawei, is expected to speed up the process of resolving the nuclear issues of the Democratic People's Republic of Korea (DPRK).
Also on Friday, the DPRK told the UN nuclear watchdog it would invite its inspectors back into Pyongyang as soon as it confirms that funds frozen at a Macao bank have been unblocked, the official KCNA news agency said.
DPRK has made similar statements before but the letter is the first written communication since it missed last Saturday's deadline to start shutting down its Yongbyon nuclear reactor as part of a February disarmament deal.
"The DPRK is ready to invite the ... delegation of the IAEA the moment the actual unfreezing of the frozen funds in the bank has been confirmed," the director of its General Department of Atomic Energy wrote in a letter to IAEA head Mohamed ElBaradei, KCNA said.
Pyongyang on February 13 committed to start shutting down its reactor and source of plutonium for bombs in a six-way deal that also requires access for IAEA inspectors.
"The DPRK still remains unchanged in its will to implement the February 13 agreement, but what matters is that it cannot move as the issue of frozen funds has not yet been completely settled," the letter said.
The United States has said that $25 million frozen in Macao's Banco Delta Asia (BDA) for use in suspected illicit activities by Pyongyang has been freed and is ready to be picked up.