PROVIDENCE, Rhode Island - China's envoy to the United States stepped up pressure on Washington on Thursday to abandon arms sales to Taiwan following recent pro-independence comments from Taiwan's leader.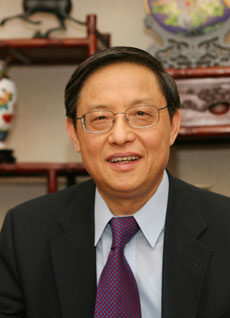 Chinese Ambassador to the US Zhou Wenzhong talks about China-US relations in this April 13, 2006 photo. [Xinhua]


While stressing that Sino-US relations "continue to make new progress," Beijing's envoy to Washington said the United States was sending the wrong signals to independence forces in Taiwan.
"If you are serious about your commitment to one China, you will stop selling weapons to Taiwan," Zhou Wenzhong said in response to a question at Brown University in Providence, Rhode Island, after giving a speech there.
He chided Washington for selling arms to Taiwan several times in a one-hour appearance at the Ivy League school. "Stop selling weapons to Taiwan and stop sending any wrong signals to Taiwan's independence forces," he said in his speech. "The civil war status between Beijing and Taiwan is not yet over."
Tensions across the Taiwan Strait were strained this month when Taiwan leader Chen Shui-bian said on March 4 that the island should pursue independence and change its official title, "the Republic of China."
China denounced Chen's statement as "deliberate provocation" and "a dangerous step." Zhou said Chen had become more "reckless and dangerous in pursuing Taiwan independence through the so-called constitutional reform."
Although it switched diplomatic recognition from Taipei to Beijing in 1979, recognizing "one China," Washington said it is obliged by the Taiwan Relations Act to sell arms to the island.
Angering China, the Pentagon told Congress this month it had approved the possible sale of up to $421 million in missiles to Taiwan for use on its F-16 fighter jets.
Taiwan is also seeking to buy around 60 advanced Lockheed Martin Corp. F-16 C/D fighter aircraft to replace more than 40 mothballed F-5E fighter jets and other aging aircraft.