A smart hen who can do calculations and kiss has become famous in a residential area in Shenyang, capital of Liaoning Province.
Some neighbors visit Guai Guai, who is 6 months old, daily to see her performance.
Guai Guai picks the answer to a simple math problem. Wang Haiying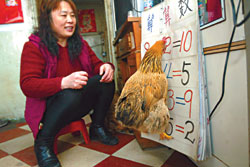 Guai Guai picks the answer to a simple math problem. Wang Haiying
"What is 8 plus 2?" asks a woman surnamed Li, the hen's owner, pointing at numbers on a piece of paperboard. Guai Guai pecked the number 10 as the answer.
"What is 9 minus 4?"
Guai Guai pecked the number 5.
Every time the hen made the right answer, Li gave her a treat french fries.
Guai Guai can also recognize the names of some fruit, cars and animals.
Her most amazing feat is kissing her owner. When Li extends her lips toward the hen, Guai Guai will give her owner a slight peck on the lips.
"I regard the hen as my own daughter," said Li, who admits to being in her 40s.
Li bought the hen from a local market and found her quite smart days later.
Once when Li happened to drop a coin on the ground, the hen picked it up right away and gave it back to her owner. From then on, Li began to train the hen.
After being trained for only five days, Guai Guai learned the English letters A, B, C and D.
Now she has three classes every day and, Li said, loves learning.
Li also has two dogs, but the hen is her favorite.
"It seems that Guai Guai knows I love her most, so she always teases the two little dogs at home," Li said. "She is the queen at home." Li said the hen has brought great joy to Li's family and her neighbors.
"My big dream is to apply for a Guinness World Record for the hen after she learns more and becomes more outstanding," Li said.
Animal experts say some animals can be trained to gain certain abilities, such as performing calculation, but it is a type of conditioned reflex, not real calculation.
But Guai Guai is a really smart hen, said Liu Mingyu, a biological professor with the Liaoning University.
He said he had heard that some dogs can add and subtract but never heard of hens having other skills.