Hugging for Chinese people is as rare as speaking English at home.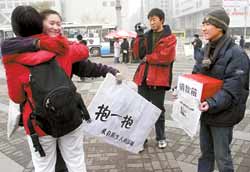 But free hug campaigns are spreading across the country's major cities, such as Beijing, making this alien custom more popular.
Dozens of netizens in Changsha, capital of Central China's Hunan Province, have initiated the campaigns, offering a heart-felt hug and smiling faces.
According to Yu Le, founder of the free hug group in Beijing, she drew inspiration for the action after seeing a video on YouTube (www.youtube.com) about Juan Mann, an Australian who, noticing how sad everyone looked on the trips he takes, launched a mission to reach out and hug strangers to brighten their days.
"As a stranger in the city myself, I felt the estrangement and apathy keenly at times," said Yu, a dancing teacher who gave her age as "in my 20s."
"I felt the impulse to start the group immediately."
Yu posted her activity schedule on her perosnal website, and picked friends whom she considered sincere in motivation to join her in the campaign.
They hugged AIDS patients, disabled people, helpless migrant workers, and people in the terminal care wards in hospitals.
"I felt life suddenly brightened by the smiles and warm hugs from a group of youngsters," a cancer patient surnamed Zhang told a reporter in Beijing. "As a patient in the late stages of cancer, we need people's affection instead of food or anything else."
The free hug campaign has spread across the country. Several websites, including www.baobaotuan.com and www.freehug.com.cn, have been set up by those participants.
They even wanted to designate one day as the Hug Festival, with everyone encouraged to hug people around them to brighten everybody's lives.
But there have been problems in this Eastern society, where emotions are kept under control and touching of others is seldom initiated, the hugging of strangers has prompted fear, misunderstanding, refusals and even attacks.
Many of the hugging youths were scolded by police, mostly for blocking pedestrians' paths in the ever-more crowded cities. Their "care from strangers" and "refuse to be apathetic" messages drew attention from many passers-by, but not their participation.
"If they have the time to hug people, why don't they use the time to do something more useful and concrete, such as helping someone in need?" said Liu Zhen, a Peking University student.
But many Chinese still support their action.
Huang Wenqing, 56, of Beijing, said "indifference is a major problem in current society, which is driven by material profit. I personally approve their action, and I want to join them in the future."
Slowly but surely, the huggers will win.