The funeral for Wang Guangmei, wife of late Chinese president Liu Shaoqi, was held on Saturday morning at the Babaoshan Revolutionary Martyrs' Cemetery in Beijing.
Wang Guangmei died on Oct. 13 at the No. 305 Military Hospital in Beijing at the age of 85.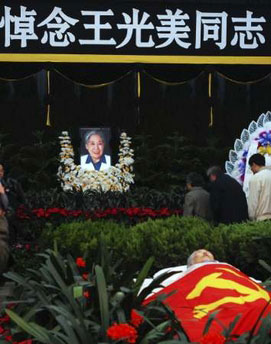 People pay their respects to a portrait of Wang Guangmei as Wang lies covered by a flag before her cremation during her farewell ceremony in Beijing October 21, 2006. [Reuters]
Born in Beijing in 1921, Wang graduated from the Beijing's Catholic University as a postgraduate majoring in physics and began her career as an English interpreter at the Beijing Headquarters in Military Mediation for the CPC in 1946. She later went to Yan'an, the revolutionary cradle of the CPC in central Shaanxi Province, to work as interpreter for diplomatic occasions.
In 1948, Wang became a member of the Communist Party of China (CPC) and married Liu Shaoqi later that year.
She continued to work as Liu Shaoqi's secretary after the founding of the People's Republic of China. She went with Liu to make inspections in more than 20 provinces and municipalities and visits to other countries.
Soon after the "Cultural Revolution" started in 1966, Wang Guangmei was cruelly purged by Lin Biao and the "Gang of Four".
In August 1979, Wang was rehabilitated and appointed director of the foreign affairs department of the Chinese Academy of Social Sciences the same year.
In 1995, the "Project of happiness - Help Impoverished Mothers" was officially launched under her guidance. Thanks to her efforts, the project has raised 310 million yuan (39.9 million U.S. dollars) to relieve 154,000 rural mothers and households from poverty, benefiting 695,000 people.
The 2nd China Poverty Eradication Award honored Wang, along with other nine individuals and organizations, for their outstanding contribution to the fight against poverty on Tuesday at the Great Hall of the People in Beijing.