What image is China projecting to the rest of the world when its second Supergirls champion looks like an exact replica of the first?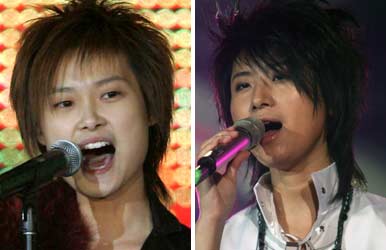 A combo picture of Li Yuchun (L), the Supergirls champion in 2005, and Shang Wenjie, this year's new champion of the competition. [China Daily]
Shang Wenjie, a 24-year-old French-Chinese interpreter who works for a French company in Shanghai, garnered 5 million text message votes from Chinese at home and abroad and beat Tan Weiwei in the September 29 final, to become the newly elected idol of China's young generation.
The new champion appears to be almost a carbon copy of last year's champion, Li Yuchun, who received 3.52 million votes and appeared on the cover of the October 10 issue of Time Asia magazine as one of Asia's heroes. Both wore short hair, behaved in a boyish way, and were widely regarded as mediocre vocalists.
From the thousands of commentaries published on the Internet, one might conclude that Shang stood out because of her self-possessed manner, unyielding spirit, good educational background and professionalism in her job as an interpreter. It might also say something about the dreams of China's young generation that before she entered the Supergirls contest, the only place she had done any singing was in karaoke clubs.
"In this public election for the Supergirls," said Dong Lu, a Beijing-based music critic, "the voters tend to favour the candidate who is most like themselves and who is therefore best able to represent them."
There's at least one thing that could endear her to the older generation: Shang's grades in the French-language department at Fudan University in Shanghai, one of the best universities in China, were top notch, and she received glowing comments from her classmates after graduating.
Her salary at her job is decent, not high. She shares a small, rented apartment with another girl and has been looking for a boyfriend but so far hasn't found one.
News reports have quoted Shang's friends as saying she was the best vocalist because of all the time they spent together singing karaoke. They kept encouraging her to enter the Supergirls contest, and finally she took a train to Hangzhou, capital of East China's Zhejiang Province and about a two-hour train ride southwest of Shanghai, one weekend and tried out.
She failed. But she wouldn't accept the outcome, asked for several days' leave from her job and travelled to Chengdu, capital of Southwest China's Sichuan Province, for the preliminary contest there.
After failing again, she went to Guangzhou, capital of South China's Guangdong Province, and this time finished second in the preliminary, which got her a ticket to the televised contest.
During the contest, broadcast by Hunan Satellite TV in Changsha, capital of Central China's Hunan Province, Shang was calm and sincere while singing and answering questions from the judges.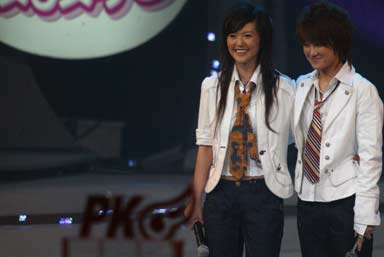 Tan Weiwei (left) and Liu Liyang, who came second and third respectively, smiling during the "Supergirls" competition. [China Daily]
"Her manner and experience can easily be a model for young professional women, who are booming in both their number and significance in society," Dong said. "They have combined to be a major force in the choosing of 'Supergirls,' especially when many Chinese men were distracted by the World Cup and the National Basketball Association playoffs."
By contrast, Dong said, runner-up Tan was too perfect to be a representative of ordinary young women.
Tan a graduate of the vocal department of the Sichuan Conservatory of Music, where Li Yuchun was a graduate student is beautiful, sweet and full of experience in the spotlight. A professional vocalist, she has performed around the globe, even at the world-renowned Musikverein Golden Hall in Vienna, with other members of her troupe. Even so, she was far from well-known in China before the contest.
Her fans like her feminine look and impeccable singing, which attracted boys and men and made her the idol of many teens and college girls, according to Li Chengpeng, one of her fans.
Born in Zigong, Sichuan Province, Tan also got full support from the Sichuan newspapers, which published her picture on their front pages repeatedly. So it was no surprise that one Sichuan poster on the Internet wrote: "When Tan lost, the whole of Sichuan cried."
Perhaps one of Tan's problems was not removing her golden high-heeled shoes earlier than the finals of the contest, Li Chengpeng said. And it had reported several weeks before the finals that Tan had often been picked up by a man in a BMW from the studio where the contest was held.
"They emphasized the fact that she was a professional vocalist," he said. In many people's eyes, a professional vocalist should not even bother to attend the contest, which is there to put a Cinderella into the spotlight."
Dong summed it up this way: "To have a chance to sing in the Golden Hall and have a BMW-driving boyfriend is surely something far away from the lives of the ordinary Chinese girls who vote for the Supergirls champion."
In their eyes, it was Shang Wenjie, not Tan Weiwei, who was their Cinderella.