A tourist was bitten in the leg by a male giant panda when he jumped over a fence in the Beijing Zoo and attempted to give the panda a hug Tuesday, wrote the Beijing Morning Post Wednesday.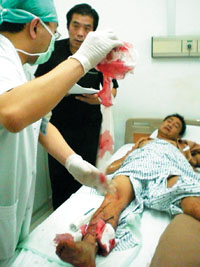 Zhang Xinyan is in Renmin Hospital, and both of his legs are badly injured. [File]
"A tourist took off his coat, jumped over the panda-area fence and headed towards Gu Gu, a male panda, sleeping on the ground. Gu woke up and bit the tourist in the leg just as the man was about to give it a hug. The two started to wrestle with each other," an anonymous witness told the reporter.
Zhang was saved by zoo staff and was sent to Renmin Hospital after his show of affection turned into a 15-minute panda fight, according to the report.
" I came to Beijing only to see the pandas. The seven-hour train ride was exhausting, and I drank bottles of beer when I arrived then had a nap," Zhang told the reporter.
His liquid courage caused Zhang to step into Gu's territory. After the bite, the intense pain in his leg swept any remaining dizziness away.
" I bit the panda on its back but its fur was too thick," Zhang recalled.
There is a five by four-cm wound in Wang's right leg and it's reportedly the worst animal bite the Renmin Hospital has treated, according to Zhang's doctor.
" We often treat dog and cat scratches and bites, but it's our first time to see a panda bite. He is lucky that the bite didn't go through to the bone," the doctor said.
" Giant pandas tends to become wild under three circumstances: during the estrous cycle, during a sudden change in surroundings, or when defending territory," a zoologist told the Beijing Morning Post.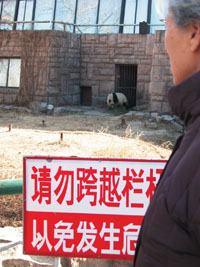 A warning sign in front of a panda area in the Beijing Zoo says "Please don't jump over the fence. It's dangerous." [File]
A lawyer contacted by the reporter said that the Beijing Zoo bears no liability for the accident because a warning sign in front of the panda's playground informed tourists of the potential danger and Zhang is responsible for his own medical bills.