Taiwanese singer-actress Meng Guangmei is currently under fire on the Internet for her remarks about the mainland on a television talk show in Taiwan, the People.com reported on September 5.
Meng was on the talk show Red Wind on Zhongtian Television in Taipei on August 31, during which she spoke about her alleged experiences on the mainland, including using a public toilet without partition walls between stalls and earning no money hosting programs on China Central Television (CCTV) in Beijing.
She mocked CCTV for sometimes broadcasting old songs which she thought unfashionable, and scorned mainlander's low English levels citing an example of the word 'dried food' in Chinese being translated to'fuck goods'in English by translating the characters separately, instead of their meaning together.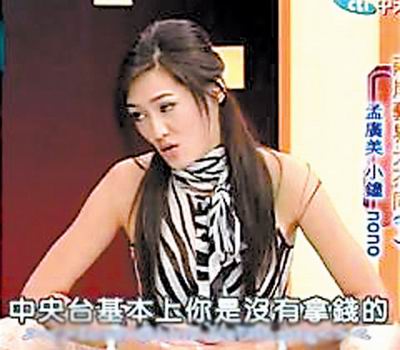 Meng Guangmei on the TV talk show Red Wind. The characters below her onscreen read "you won't be paid much by CCTV."
What brought the most criticism was Meng's belief that the Nanjing Massacre of 1937, during which 300,000 Chinese were killed by Japanese troops, as "a historical affair" and "should not become the basis of opposition between China and Japan."
Still pictures and video of the show soon spread over dozens of websites such as Sina.com, and angry web users called for a petition, hoping to gather the names of one million people to condemn what they believe were Meng's inappropriate words, especially what they saw as her sneering tone and scornful attitude.
In an online survey conducted by a website portal, 51.61 percent of the surveyed web users 'previously felt good about her (Meng), but disagree with her about this,' and another 48.39 percent thought 'she is stupid, and deserves criticism.' No one in the web survey supported Meng's opinions.
Many netizens commented on Meng's opinions, saying they could accept Taiwanese artists making money on the mainland and even scorning people and mainland cities, but they would never forgive her for frivolously talking about the Nanjing Massacre.
After Meng's remarks was publicized on the Internet and stirred the uproar, she posted an announcement and a video record on this issue on a website, saying she has been living and working on the mainland for nearly ten years, and never mean to laugh at mainland people. She appeared very excited and emotional in the video, calling for a stop to the attacks on her words, claiming she made grammatical errors, and declaring she is determined to find the troublemakers who started it all.
Phoenix TV talk show anchor Chen Luyu when asked about her opinion on this issue, said that TV anchors should speak carefully because it's easy for them to resonate with the audience or stir public opinion. She disagreed with Meng's criticism of mainland people's poor English, saying "we are not an English-speaking country. It's enough to use Mandarin well."
Chen believes the Nanjing Massacre is too serious to be a topic for entertainment shows, as "every Chinese person feels depressed about this issue."
Some netizens say the poor translation of 'dried food' was just a joke, and it's silly and self-righteous of Meng to determine people's English level through jokes.
Guangzhou's Yangcheng Evening News wrote that it has become a custom of talk shows in Taiwan to induce guests, mostly singers and actresses, to make inappropriate remarks that make news headlines, and that Meng may be one of them.