Wang Zhihua got a present he would never forget from his only daughter for Father's Day this year, a website outlining for the public his extra-marital affair, reported the Shandong Evening Post.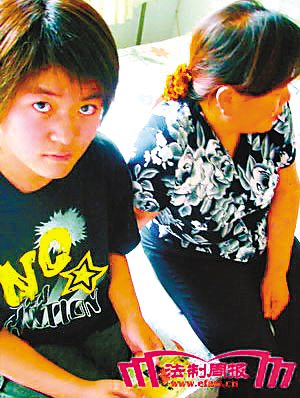 Wang Jing who established a anti-mistress website to punish her unfaithful father is seen with her mother in Jinan, East China's Shandong Province.


A freshman at a Jinan university, East China's Shandong Province, the daughter Wang Jing resorted to radical measures including petitions, on her website depicting the trials and tribulations of her family that was, as she writes "derailed by a wanton father."

Her efforts were to no avail. Her parents' 21-year union ended this February with more resentment than pity.

"It's he who made me go to such extreme measures when my previous affectionate approaches had failed," Jing says. She allegedly says she would rather sacrifice her father's promising political career for a happy, re-united family.

"After all we are connected by flesh and blood. He will always be my father," she says. "He's always welcome with mom and I."

According to Wang Jing, her father broke the tranquility of their family life by secretly keeping Li Cuilian as an "ernai," or mistress, since 2003.

Li lived for about six months in the same residential complex as Wang and his legitimate family disguised as a distant relative.

"It's a big insult to my mother and me," Jing says, with evident indignation and sarcasm.

"My father knows well the most dangerous place can be the most safe. He used to be a military officer," she says.

When asked if her father loved her, she softens her tone. "He loved me, even deeper than my mom."

Hurt by her father's betrayal, Jing was unexpectedly harsher than her mother in her attempts to punish her father's behavior.

"My mom still treats me like a child who, in her opinion, had better sit by and do nothing during the marriage crisis," says Jing.

"The child is also affected when a relationship sours," says Jing. "I decided to do something about it."