Chinese Premier Wen Jiabao's seven-nation African tour is "fruitful" and has achieved the objective of deepening friendship, enhancing mutual trust, broadening cooperation and seeking common development between China and Africa, Foreign Minister Li Zhaoxing said in Beijing Saturday.
Li, who accompanied Wen to Egypt, Ghana, the Republic of Congo, Angola, South Africa, Tanzania and Uganda, told Chinese reporters that the tour has drawn wide attention from African and international media and will have a far-reaching impact on China-Africa relations in the new era.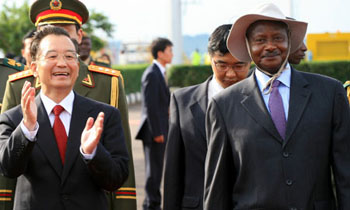 China's Premier Wen Jiabao (L) and Uganda's President Yoweri Museveni watch dancers on Wen's arrival at Entebbe international airport, 47 km (29 miles) south-west of Uganda's capital Kampala, June 23, 2006. Wen is on a one-day state visit as part of a seven African nation tour. [Reuters]
The Chinese and African peoples have forged a profound friendship by sympathizing with, supporting and helping each other in their fight for national independence and in their nation building, said Li.
Premier Wen's official visit, aimed at deepening China-Africa friendship, was warmly welcomed by the African people, said Li. He noted that leaders from both sides said they were feeling the warmth of friendship between their peoples although China and Africa are far apart geographically.
Both China and African nations belong to the developing world and there are huge potentials for China and Africa to conduct mutually beneficial cooperation and seek common development, as the economies of China and African countries are highly complementary.
In South Africa, Wen elaborated on China's policy of building a new type of strategic partnership with Africa under the principle of sincerity, friendship, equality, mutual benefit and common development.
During the visit, China signed outlines with Egypt and South Africa on deepening strategic and cooperative relations between them, and issued joint communiques with the other five African nations on further developing bilateral cooperation.
China signed with the seven countries a total of 71 agreements covering politics, economy, trade, infrastructure, culture, education and science and technology.