China's top legislature, the standing committee of National People's Congress, has on Saturday has opened a six-day session to consider a long-awaited anti-monopoly law.

The standing committee of the National People's Congress was to deliberate on the anti-monopoly draft for the first time, Xinhua news agency reported Saturday.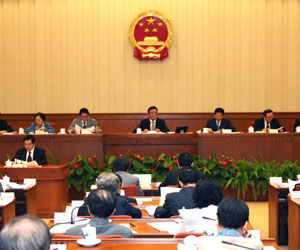 Wu Bangguo (C), chairman of the National People's Congress (NPC) Standing Committee, China's top legislator, presides over the 22nd session of the 10th NPC Standing Committee, or China's legislature, in Beijing, capital of China, on June 24, 2006. [Xinhua]
"The aim of the law is to protect fair competition, prevent and check monopolistic behavior and maintain an orderly market place," Xinhua said of the draft law.
The draft law banned monopolistic agreements, such as price-fixing and other forms of collusion, while providing guidelines on investigating and prosecuting monopolistic practices, it said.
"With mergers and reshuffles frequently taking place by domestic and overseas enterprises, monopolies have emerged in certain areas and certain sectors," Xinhua quoted Cao Kangtai, a legal affairs official with the State Council, China's cabinet, as saying.
"It is very necessary to formulate the anti-monopoly law."
According to Xinhua, the draft law calls for a special anti-monopoly commission to be set up to deal with anti-monopoly cases.
Earlier press reports said the law aimed to prevent multinational corporations from gaining monopoly status in China through foreign investment and mergers and acquisitions.
But the measure is fraught with difficulties, including how to handle state monopolies in areas such as energy, land rights, insurance, telecommunications and tobacco.
The draft was approved by the State Council, China's cabinet, earlier this month but versions of the draft have not been made public. It was first drafted in 1994 after preparatory work began as early as 1987.
Also during the session, a bill on how the government responds to emergencies such as industrial accidents, natural disasters or health and social crises was to be heard, the parliament said.
The legislature would also hear a report on how a law on regional autonomy for minority nationalities was being implemented in 20 provinces and regions, it said.