The leader of Taiwan's biggest opposition party ripped into Chen Shui-bian on Wednesday, saying in a TV speech that Chen should resign because his incompetence and corrupt family were dragging down the island.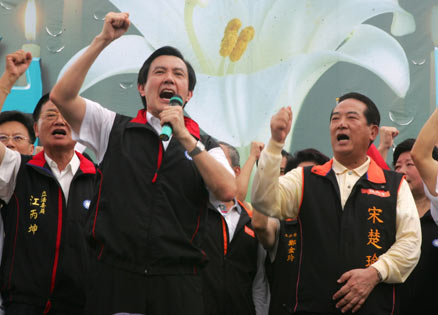 Ma Ying-jeou(L), chairman of Nationalist Party and James Soong (R), chairman of the People First Party shout for Taiwan leader Chen Shui-bian to step down during a rally the city of Changhua, roughly 150 km (90 miles) south of Taipei, June 18, 2006. [Reuters]


The verbal assault by Nationalist Party chairman Ma Ying-jeou came one day after Chen gave a two-hour televised address defending himself against a campaign to recall him.

Ma, a likely "presidential" candidate in 2008, said that Chen's speech failed to restore the public's faith in him.

"We cannot allow Chen to continue. It's negative for Taiwan," said Ma, a Harvard-educated lawyer and the popular mayor of Taipei.

The opposition leader said his party didn't want to launch the recall campaign, but it could no longer stand by and watch Taiwan's decline. He said Chen has mismanaged the economy and has damaged relations with the U.S.

Ma said the Nationalists would like to see Chen finish his term but the party just can't stand by and watch the island continue to decline.

"We don't want to see Taiwan keeping going around in circles," he said.

Ma spoke after the "Legislature" finished its first day of debates on whether to hold a referendum on recalling Chen because of alleged family corruption and incompetence.

The ruling Democratic Progressive Party and its allies boycotted the debates, which will continue the rest of the week. "Lawmakers" plan to vote next Tuesday on whether to hold the recall referendum.

It's not expected to pass because the opposition, which has a slim majority, needs a two-thirds majority to approve it.

Chen's troubles began last month with allegations that his son-in-law, Chao Chien-min, was involved in insider trading. Chao, a physician, was arrested on May 24 and the probe continues.

Chen - a former lawyer and fierce debater - said in his TV speech that he felt heartbroken that his son-in-law was involved in the investigation. But he pledged that his son-in-law wouldn't receive preferential treatment as the investigation continues.

Chen's wife, Wu Shu-chen, has also been accused by the opposition of accepting gift vouchers from the Sogo department store. Chen denied the allegations and repeated a promise that he'd resign if his wife is found guilty.

Nationalist leader Ma said that Chen didn't clearly explain why the first lady was innocent. He noted that Chen said that she didn't "directly" accept the gift vouchers.

"What does it mean when he says she didn't directly receive the gift vouchers?" Ma said. "Did she accept them or not?"