As tensions with North Korea rise, three US aircraft carriers filled the skies with fighters Tuesday for one of the largest US military exercises in decades off Guam in the Pacific.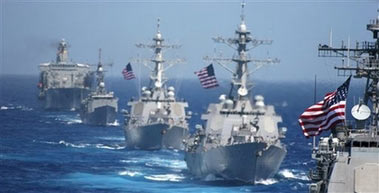 In this photo released by the US Navy on Monday June 19, 2006, USS Cowpens (CG 63), foreground, is followed by USS Lassen (DDG 82), USS John S. McCain (DDG 56), USS Vandegrift (FFG 48) and USNS Tippecanoe (T-AO 199) during a photo exercise to kick off Exercise Valiant Shield 2006 in the Pacific Ocean on Sunday June 18, 2006. [AP]
For the first time ever, a Chinese delegation was invited to observe the US war games. As the show of American military power began, North Korea was rattling swords of its own.
The maneuvers, dubbed "Valiant Shield," bring three carriers together in the Pacific for the first time since the Vietnam War. Some 30 ships, 280 aircraft and 22,000 troops will be participating in the five-day war games.
The exercises are intended to boost the ability of the Navy, Air Force and Marines to work together and respond quickly to potential contingencies in this part of the world, US military officials said. Even US Coast Guard vessels were participating.
"The exercises are taking place on land, sea, air, space and cyberspace," said Senior Master Sgt. Charles Ramey. "They cover the whole spectrum."
The maneuvers mark the first major operation in this remote US territory about halfway between Hawaii and Japan since the announcement last month that some 8,000 Marines would be moved here from Okinawa as part of the biggest realignment of US forces in Asia in decades.
Though planned months ago, they come amid heightened tension in Asia over North Korea.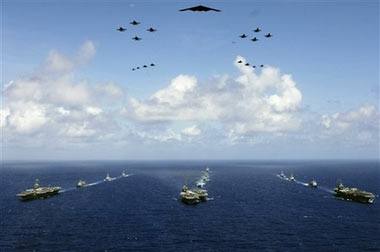 The USS Abraham Lincoln, USS Kitty Hawk and USS Ronald Reagan carrier strike groups steam in formation during a joint photo exercise (PHOTOEX) in preparation for Valiant Shield 2006 on Sunday, June 18, 2006, in the Pacific Ocean. [AP]
Officials in the United States, South Korea and Japan say they believe North Korea is preparing to test launch a Taepodong-2 long-range ballistic missile. The missile is believed to be able to reach the western United States.
Pyongyang launched a Taepodong that flew over Japan's main island in 1998. But the North Korean side said the launch successfully placed a satellite in orbit.
North Korean leader Kim Jong-il agreed on a moratorium on long-range missile launches during a summit with Japan in 2002. Pyongyang has honored that agreement since, but Tokyo has threatened to impose sanctions if it goes through with a launch this time.
Military officials here had no comment on the activity in North Korea, or on what specific tactics or scenarios are being used in the exercises.
They stress, however, that the exercises have been opened to outside observation and are not intended to provoke any one.
"These exercises are not aimed at any one nation," said US Cmdr. Mike Brown.
The exercises are instead intended to provide training in "detecting, locating, tracking and engaging" a wide range of threats in the air, land and sea.
Representatives from China, Japan, Australia, South Korea, Russia and Singapore were invited to attend.
China's presence has been singled out as particularly significant.
Though military relations between Beijing and Washington cooled when an American spy plane bumped into a Chinese fighter jet and made an emergency landing on south China's island of Hainan in 2001, senior military officials from both countries are cautiously trying to mend the rift.
China's 10-member delegation includes one top-ranking officer each from the People's Liberation Army, air force and navy, the Xinhua News Agency said Tuesday.
"The invitation to observe the US military exercises is a very important component of exchanges between the militaries of China and the United States," Xinhua quoted an unidentified Defense Ministry official as saying.
Along with the USS Kitty Hawk, Ronald Reagan and Abraham Lincoln carrier strike groups, US fighters and B-2 bombers operating out of Guam's Andersen Air Force Base will join the maneuvers.
Brown said the exercises were to be held again next year, and then become a biennial event.