'Housing costs may fall up to 15%'
By Hanny Wan
Updated: 2006-06-21 06:56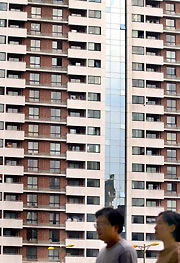 Residents in Nanjing, capital of East China's Nanjing Province, walk past a newly-constructed apartment building May 10, 2005. [newsphoto]

Residential housing prices in Chinese Mainland are likely to drop 10 percent to 15 percent by mid- August because of government policies to cool the market, according to the property agency Centaline Group.

The decline began in May, said Shih Wing Ching, chairman of Centaline, which has about 500 branches on the mainland and 250 in Hong Kong.

"The Chinese government won't be satisfied with small declines such as 3 percent or 4 percent," Shih said in HK Monday.

The government last month announced a plan to increase the minimum down payment for larger apartments to 30 percent and more than doubled the period during which a property sales tax would apply, both as part of the effort to cool the market.

"I think those measures have already shown some effects," Shih said.

Property prices in Beijing are likely to drop to 7,200 yuan a square meter, or $82 a square foot, this month from 7,533 yuan a square meter in April, according to Centaline. That compares with 6,554 yuan a square meter a year earlier.