SCO members pondering over long-term treaty
(chinadaily.com.cn)
Updated: 2006-06-20 09:56
China suggests the six-nation Shanghai Cooperation Organization sign a long-term treaty on peace and cooperation, a Russian diplomat said Monday, a deal that would signal yet a further strengthening of the organization.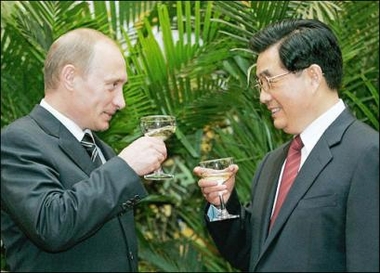 Shanghai Cooperation Organization (SCO) leaders Russian President Vladimir Putin (L) and Chinese President Hu Jintao toast after signing a bank agreement between the two nations after a meeting in Shanghai. [AFP]


Vitaly Vorobyov, Russia's envoy to the SCO, said his country supported the proposal, which was made by Chinese high level officials at the organization's summit in Shanghai last week.

Speaking at a round-table discussion, Vorobyov said the treaty would represent a "serious turn" for the organization.

"This organization is not anti-American," he said.

He said the United States was keenly interested in the Shanghai summit _ a sign of the SCO's growing clout.

"It has outgrown regional limits and reached a purely global level," Vorobyov said.

While the Shanghai summit last week raised fears among U.S. officials that the SCO would position itself more clearly as an anti-U.S. bloc, the organization's leaders largely steered away from controversy.

At the round-table, however, Dmitry Mezentsev, deputy speaker of Russia's upper house of parliament, cautioned against expanding the SCO too quickly.

First, "we need to learn to help each other," he said.

The six-nation SCO was set up 10 years ago to deal with border disputes, but it has slowly expanded its reach into counterterrorism, defense, energy and economic cooperation.

Last year, the organization urged the United States to set a timetable for withdrawing from bases in Uzbekistan and Kyrgyzstan.

Uzbekistan later evicted U.S. troops.