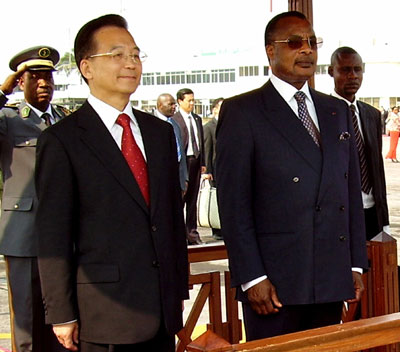 Chinese Premier Wen Jiabao (L) visits African Union chairman and Congolese President Denis Sassou Nguesso in Republic of Congo's capital Brazzaville June 19, 2006. [Reuters]
China signed seven cooperation accords with the Republic of Congo as Premier Wen Jiabao reiterated to the press that Beijing had no "selfish interests" in pursing deals in Africa.
Wen was in the Congo on the third stop of a seven-nation swing tour around Africa, where China has pushed for investment deals, closer trade relationship, and more amicable political friendship.
In Brazzaville, Wen said that in cooperating with the African continent, China is not seeking "selfish interests".
The Chinese premier said that Beijing was operating under two principles: "reciprocal advantages and non-interference in Africa's internal affairs."
The Chinese leader was accorded an airport welcome by Congo's president, Denis Sassou Nguesso. The two countries signed accords that establish the basis for economic, commercial and technical cooperation, according to Congo's foreign ministry.
China also offered to donate medicines for fighting malaria to the west coast African nation.
Brazzaville in turn agreed to buy two Chinese-made aircraft.
On Tuesday, Wen is due to meet the country's 500-strong Chinese community and visit one of two hospitals built by China and staffed by Chinese medical workers.
He will also meet Congolese high school students studying Chinese, before leaving for Angola.
Trade between the two countries was worth 2.05 billion dollars (1.63 billion euros) in 2005, according to official figures, with China importing oil and wood and exporting finished goods and construction equipment.
In the past five years Chinese firms have won several contracts, among them the building of the foreign ministry, the headquarters of state radio and television and the biggest hydroelectric dam in the country, north of Brazzaville.