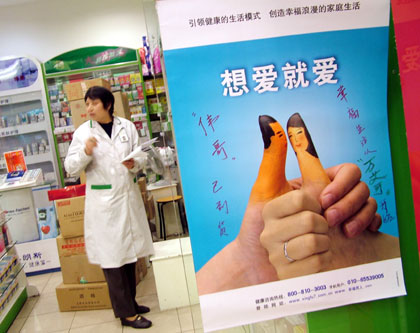 A drugstore sets up a poster to advertise its inventory of Viagra in this March 25, 2005 photo. A Chinese court has ruled the Viagra maker Pfizer should enjoy patent protection in China and local firms are appealing the ruling. [newsphoto]
Twelve Chinese pharmaceutical firms have launched an appeal against a court ruling protecting US drug giant Pfizer's patent rights for Viagra.
In a last-ditch effort to protect their investment in Viagra-style drugs, the firms yesterday handed their appeal to the Beijing High People's Court.
They are calling for a reversal of the June 2 court ruling which upheld Pfizer's patent for its anti-impotence drug.
But the State Intellectual Property Office (SIPO), which was ordered on June 2 to withdraw its decision to invalidate the patent right of Sildenafil Viagra's active ingredient did not appeal with the 12 companies yesterday, thereby missing the appeal deadline.
A date has not yet been set for the case, court sources told China Daily.
On June 2, the Beijing No 1 Intermediate People's Court ruled in favour of Pzifer, after reviewing the case for more than one and a half years.
Yesterday, while expressing his disappointment in not having SIPO's support in the appeal, Wang Wei, a lawyer representing the 12 pharmaceutical companies, told China Daily: "We must try our best to protect our interests, no matter whether SIPO will appeal with us."
The 12 drug companies, from Jilin, Shanghai, Anhui, Jiangsu, Guangdong, Chongqing, Sichuan and Tianjin, claim to have invested over 100 million yuan (US$12 million) in less expensive imitations of the famous blue pill.
Pfizer filed a patent application in May 1994 for the use of Sildenafil in erectile dysfunction treatment in China.
SIPO granted the patent after seven years of examination, but the 12 Chinese companies challenged the validity of the decision.
As a result, SIPO's patent review board invalidated the patent in July 2004 on grounds of "insufficient disclosure" of the invention, but the decision never took effect as Pfizer launched an immediate legal challenge.
Pfizer's legal action against SIPO reached court in October 2004. The case aroused widespread attention, although it was not the only case in which the SIPO patent review board, a government entity, was in court for its decisions on intellectual property rights.
Industry insiders pointed out that the huge potential profits of anti-impotence drugs and dramatic clashes between domestic and overseas pharmaceutical companies were the real causes of the dispute.
Chinese anti-impotence drugs, marketed under various names, are intended to sell at less than 50 yuan (US$6.25) per pill much cheaper than Viagra, which costs around 100 yuan (US$12.5) per pill in China.
It is estimated that about 80 million Chinese men suffer from erectile dysfunction.
If Pfizer finally wins the patent dispute, the Chinese drug producers will have had their investment completely wasted, because they have never had the right to sell their imitations approved.
Sources with Pfizer would not comment on the appeal yesterday.
In an earlier statement the US pharmaceutical giant welcomed the decision to uphold its patent rights, saying it reaffirmed China's commitment to fostering an effective patent protection environment.
The company believes the initial decision establishes China as a viable and safe investment destination.
The appeal from the 12 Chinese pharmaceutical firms does not provide any new evidence for their claim, but insists Viagra's patent manual fails to provide convincing technical content.