Delegation to watch US navy drills
(China Daily)
Updated: 2006-06-20 06:31
A 10-member Chinese military delegation is now in Guam to observe US naval exercises in the Pacific for the first time.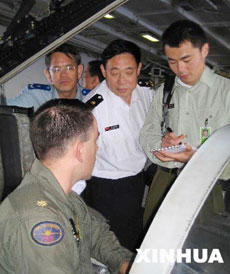 Members of the Chinese military delegation talk with a US pilot aboard a US carrier June 18, 2006. [Xinhua]

The group, including three generals from the army, the air force and the navy of the People's Liberation Army as well as foreign affairs officials will witness the drills, dubbed "Valiant Shield 2006," scheduled for June 19-23.

The exercises will involve three US aircraft carrier groups, 30 warships, 280 aircraft and 22,000 soldiers, according to a Xinhua report.

The visit of Chinese military officers was made at the invitation of Admiral William J. Fallon, commander of the US Pacific Command, during his visit to China last month.

It is the first time that China has sent observers to watch exercises by American military in the territory of the United States.

It is also the first time that China has been invited to observe exercises solely conducted by the US Army, reported Xinhua.

The report said that more than 30 observers from seven countries visited the aircraft carriers.

The Chinese delegation toured the aircraft carrier the Ronald Reagan on Sunday.

The invitation to observe the US military exercises is a very important component of exchanges between the militaries of China and the United States, Xinhua quoted an unnamed official from the Ministry of Defence as saying in its earlier report.

"This is not only beneficial to mutual understanding and confidence building, but it is also beneficial to mutual study and reference and for advancing the continued development of our militaries," said the report.