Protesters call for Taiwan chief's ouster
(Shanghai Daily)
Updated: 2006-06-19 06:35
Thousands of Taiwanese holding red cards saying "recall" held a boisterous street rally in central Taiwan yesterday, supporting an opposition-backed move to oust Taiwan leader Chen Shui-bian.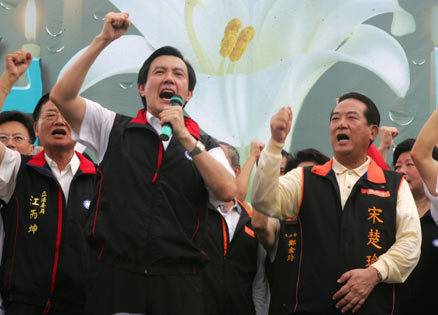 Ma Ying-jeou(L), chairman of Nationalist Party and James Soong (R), chairman of the People First Party shout for Taiwan leader Chen Shui-bian to step down during a rally the city of Changhua, roughly 150 km (90 miles) south of Taipei, June 18, 2006. [Reuters]


The protesters, honking air horns and chanting slogans demanding Chen's resignation, gathered near a marketplace in Changhua city, about 140 kilometers south of the provincial capital, Taipei.

Organizers said more than 10,000 people turned up for the rally on the third consecutive weekend of opposition demonstrations.

Several demonstrators kicked a soccer ball to knock down posters of Chen and his family. The crowd broke into thunderous cheers.

"We can't take it anymore. We want to recall A-bian," opposition leader James Soong of the minor People First Party told the crowd, using Chen's nickname.

"If we allow A-bian to continue his corruption, there will be no future for Taiwan's democracy," Soong said. "We need to have high moral standards and courage to fight corruption."

Another opposition leader, Ma Ying-jeou of the large Kuomintang party, said, "We see Chen and his family and people don't know how to teach their children. So for our grandchildren, we have to launch this recall motion and force Chen to step down."

Ma said 600,000 people have signed a petition to recall Chen. The island's population is 23 million.

Last week, some Chen supporters phoned in assassination threats against Ma to illegal underground radio stations.

The political turmoil was sparked by allegations that Chen's son-in-law, Chao Chien-min, was involved in insider trading. Chao was arrested on May 24.

Prosecutors are also investigating whether Chen's wife, Wu Shu-chen, was involved in illegal financial dealings linked to a department store.