Egypt, China sign agreements as premier tours
(Reuters)
Updated: 2006-06-18 10:51
Egypt and China signed 11 trade, business and cooperation agreements on Saturday as Chinese Prime Minister Wen Jiabao began an African tour which concentrates on energy supplies and economic relations.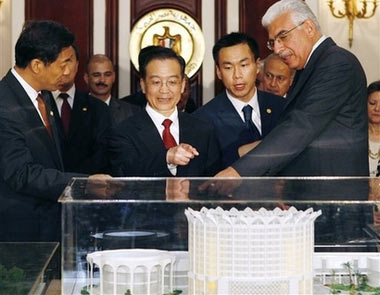 Chinese Premier Wen Jiabao, center front, and Egyptian Prime Minister Ahmed Nazif, right, attend the inauguration ceremony of cooperative projects between China and Egypt in Cairo, capital of Egypt, Saturday, June 17, 2006. Wen arrived in Cairo Saturday afternoon for a two-day official visit. [AP Photo]



In ceremonies at the office of Egyptian Prime Minister Ahmed Nazif, officials and business people from the countries signed deals to manufacture communications equipment, cooperate in the oil and gas sectors, simplify some import procedures and rehabilitate a large Chinese-built conference centre in Cairo.

Wen's visit coincides with the 50th anniversary of diplomatic relations between Egypt and China -- an event which folklore troupes from the countries will celebrate on Saturday evening at a gala in front of the Giza pyramids.

On arrival in Cairo, Wen said that relations had stood the test of time and international transformations.

China is a growing exporter to Egypt, with Chinese vehicles now starting to appear in the market, but the volume of trade with China is still much smaller than trade with the United States and the big European economies.

The agreements signed on Saturday include one between partially privatised state company Telecom Egypt and the Chinese company Huawei Technologies to manufacture CDMA wireless local loop terminals.

An official document described the energy deal as a framework agreement on cooperation in oil and natural gas.

Egypt is becoming a significant exporter of liquefied natural gas to Europe and the United States but not yet to Asia.

Wen will have talks on Sunday with Egyptian President Hosni Mubarak, who has visited China once in 25 years as president and will visit again later this year, state agency MENA said.

Wen's brief visit to Egypt ends on Sunday and he will then fly on to Ghana, Congo Republic, South Africa, Angola, Uganda and Tanzania, ending the tour on June 24.