An explosion at a chemical plant in Anhui Province killed 14 people and injured 30, the government said Saturday, in the third major industrial disaster to strike China this week.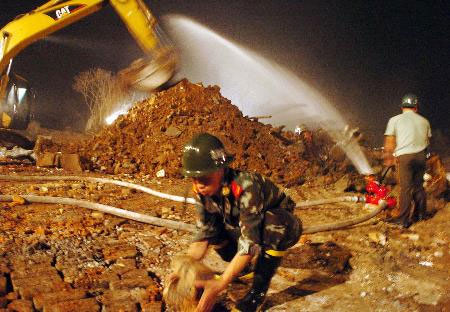 Local firefighters clear the site on June 17, 2006, after a Friday blast occured in the chemical plant in east China's Anhui Province. The two-story workshop complex has been razed to the ground. [sina]
The Xinhua News Agency said the death toll rose to 14 from 10 on Saturday but did not give any details. The report cited Chen Shuo, deputy director of the Anhui Provincial Administration of Work Safety.
Xinhua said it was still not known how many people were in the factory at the time.
Nor was it clear what caused Friday's blast at the chemical explosives factory owned by the Dun'an Chemical group Co., Ltd. in Anhui, said a statement posted on the Maanshan city government Web site. Maanshan oversees Dangtu county, where the plant is located.
Xinhua said an initial investigation showed that the blast occurred while powder for making explosives was being emulsified.
The factory's two-story workshop was razed and that firefighters were still working Saturday to put out the fire, Xinhua said. The site was sealed off as a precaution against other explosions.
The Maanshan city statement quoted the provincial party head, Guo Jinlong, said an investigation into the cause of the blast had been launched.
It was the second blast to hit China's chemical industry this week. On Thursday, a series of explosions at the Longxing Chemical Co. plant in Zhejiang province left one person injured and two missing.
The plant, which is close to the Oujiang river, mainly produces hydrogen peroxide - a chemical commonly used for bleaching, antiseptics and deodorants, Xinhua reported earlier. Industrial hydrogen peroxide contains arsenic, heavy metals and other toxic ingredients.
Emergency workers trucked sand and rocks to the blast site to prevent contamination of a nearby spring that feeds into Oujiang, Xinhua said.
Some 4.7 million people live along the Oujiang, which winds its way nearly 360 miles to the East China Sea.
Meanwhile, on Monday a river in north China was contaminated when a truck overloaded with coal tar crashed and dumped its cargo into the Dasha river in Shanxi province.
The accident forced local officials to build a series of 51 makeshift dams to slow the river and give them time to soak up the sludge with cotton quilts, straw and activated carbon before it could flow into a major reservoir some 45 miles downstream.
The Wangkuai Reservoir provides water for irrigation and other industrial uses to Baoding city, which has a population of about 10 million people. It is not the city's source for drinking water.