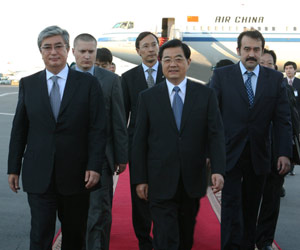 Chinese President Hu Jintao (front C) arrives at Almaty International Airport, with the presence of Kazakh Foreign Minister Kasymzhomart Tokayev (front L) and Kazakh Deputy Prime Minister Karim Masimov (front R) in Almaty, capital of Kazakhstan, on June 16, 2006. [Xinhua]


Chinese President Hu Jintao called for the building of a harmonious Asia of enduring peace and common prosperity, at the second summit of the Conference on Interaction and Confidence-Building Measures in Asia (CICA) being held on Saturday in Almaty.

"Asia is a continent of great diversity. ... Solidarity and coordination of the Asian countries and peoples are crucial for the success of Asia," Hu said at the one-day summit.

The Chinese president urged Asian countries to increase mutual trust and coordination to build a new type of security architecture.

"We should respect every country's right to safeguard national unity, pursue its development strategy and formulate domestic and foreign policies independently," he said.

As Asian countries are diversified in culture and civilization, Hu called on different nations to "respect the diversity of human civilizations and encourage their mutual exchanges and mutual enrichment."

While calling for strengthened cooperation within regional organizations such as the Shanghai Cooperation Organization, ASEAN and CICA, President Hu also urged Asian nations to uphold multilateralism and strengthen cooperation internationally to create favorable conditions for the development of Asia as a whole.

Hu also stressed that the CICA Forum has become a platform where different civilizations carry out dialogues and different countries seek mutual understanding.

On the economic front, Hu suggested that Asian nations bring into full play their economic synergy and actively enhance cooperation in areas such as energy, transportation, finance, agriculture, telecommunications and public health.

"Asia is crucial for China's development" the president said, adding that China "pursues a foreign policy of fostering a harmonious, secure and prosperous neighborly environment."

CICA, a forum aimed at increasing security in Asia, was initiated by Kazakh President Nursultan Nazarbayev, who called for its creation at the 47th UN General Assembly in 1992.

The CICA now comprises 17 members and has nine countries as observers. Its first summit was held in Almaty in June 2002.