Large natural gasfield discovered offshore China
(AFP)
Updated: 2006-06-16 15:49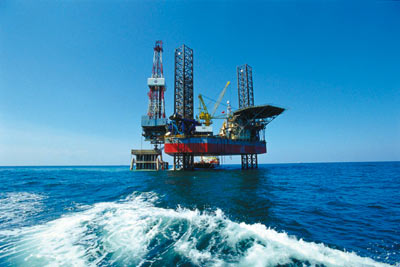 An oil rigs of the China National Offshore Oil Corp explores oil and gas reserves on China's Bohai Sea in this file photo taken in 2004. [Newsphoto]
China National Offshore Oil Corp (CNOOC) and its Canadian partner Husky Energy Inc have discovered a significant deepwater gas reserve in the South China Sea near Hong Kong.
Based on preliminary analysis of drilling results, the discovery could contain a potential recoverable resource of four to six trillion cubic feet (120 billion to 180 billion cubic meters) of natural gas, Husky Energy Inc said in a statement seen Friday.
"We are very pleased with our exploration results and this discovery confirms our confidence in the significant undiscovered hydrocarbon potential in the South China Sea," John Lau, Husky CEO and president said.
"We look forward to evaluating this discovery and continuing our exploration efforts in China."
State-owned CNOOC has the right to participate in the development of any discovery for up to 51 percent working interest, Husky said.
The Hong Kong-listed unit of CNOOC, CNOOC Ltd, confirmed the discovery, with an official saying that if the estimated recoverable reserves were confirmed, the block could be the "largest gas find in offshore China."
The discovery was made in the mouth of the Pearl River about 250 kilometers (150 miles) south of Hong Kong, it added.
The well will be sidetracked for further evaluation of the pay zone, Husky said, adding there were plans for a three-dimensional seismic survey to assess a number of similar structures which have been identified from other seismic data.
Earlier this month, CNOOC signed two production sharing contracts with Britain's BG Group PLC covering two deep water blocks in the South China Sea.
To date, CNOOC has signed four deep water production contracts with foreign partners.