Related:Super-sized Belly
As people are widely concerned about the health of Qiao Yubo and her five babies in her phenomenally big belly, the super pregnant woman confessed Wednesday to the local reporters and doctors that the whole thing was made up.
Qiao Yubo, an ordinary woman in Ningjiang District of Songyuan city, northeast China's Jilin Province, has been put into the spotlight since Jilin News' report on her quintuplets and 175-centimeter waistline earlier this week.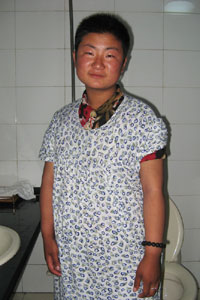 Qiao Yubo's super-sized belly "disappeared" on June 14, 2006. [Jilin News]
However, when a hospital in the capital city of Changchun offered a free medical check-up, the woman and her husband taken flee from a window, thus unfolding the true story behind, reported Jinlin News.
When the doctors finally found her in a washing room in her sister's house, Qiao knelt down, cried out, and told them she was not carrying quintuplets, Mr Li, chief of the hospital, told the newspaper.
Calming down, Qiao pulled out the staff she had been cramming into her belly, including three bed quilts, a dozen sweaters, shirt, cushions, hats and so on, Li said.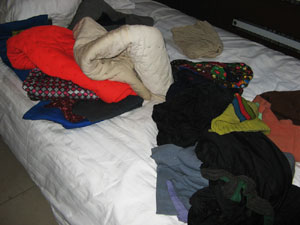 Staff pulled out from Qiao's belly on June 14, 2006. [Jilin News]
Qiao had been pregnant twice before, once with twins and the other with multiples, but had miscarriages both times. Fearing the second miscarriage might be a hard blow to her husband, Qiao hold back the truth.
Qiao became pregnant again a month after her second miscarriage, which gave her an idea -- to make up a belly with clothes and other staff before the belly got really big so that her husband would get the truth. She then filled something inside every day, and her belly grew accordingly, Li was told by Qiao.
She has been pregnant for three months in fact, Li said.
Surprisingly enough, even Qiao's husband had no idea Qiao was having a fake belly until the arrival of the hospital staff, and he was the first to inform of media of the quintuplets.
"I was thinking I could not afford five babies, so I hoped the media exposure would arouse the society's attention and some people might give a helping hand." the paper quoted her husband as saying.