Chinese actress and director Xu Jinglei launched a cultural fund with 200,000 yuan (US$25,000) to support braille publications, education for the children of migrant workers, and filming Tuesday in Beijing.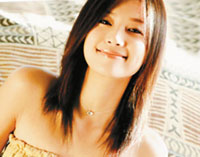 Xu Jinglei
A member of the China Council of Lions Clubs, a branch of the volunteer organization International Association of Lions Clubs, Xu announced at the ceremony held by the club that the braille library of Beijing Blind School would be the first institution receiving support.
She said her dream is to be a battlefi eld journalist. "Although my dream has not yet come true, it is possible to realize it because I'm still young," said Xu, 32.
"To help others, we can ease their hearts or give money. I prefer the latter," said Xu. The actress-director learned to read braille at the ceremony with the help of a blind girl Zhang Xinran.
She plans to donate part of the box-offi ce revenue of the fi lms produced by her company to support the projects. Xu said that the fund will receive up to one yuan per ticket. Xu has just fi nished directing her third fi lm, "Dreams Light Up Reality," in which she also stars. She produced a single with the same name. "If the audience loves the song, I will sing more in the future. If they fi nd it isn't worth listening to, then I will never sing again," she said.