Chinese authorities have admitted they are struggling to cope with a "rampant" illegal market in explosives and small arms, as they launched a crackdown.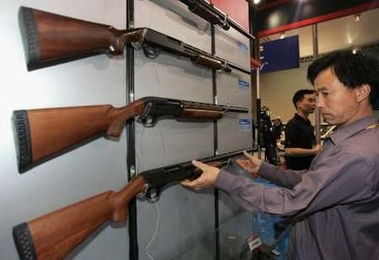 A visitor checks Chinese-made guns at an exhibition of police equipment organised by China's Ministry of Public Security in Beijing May 25, 2006. [Reuters]
"At present the public security situation concerning explosives, guns and ammunition is not optimistic," public security ministry spokesman Wu Heping told journalists at a briefing to announce details of the four-month crackdown.
The number of explosions, the theft of explosives and criminal activities using illegally made guns were posing problems for police and public safety, he said.
Xu Hu, a deputy director at the public security ministry. said the underground explosives and gun-making industries were becoming increasingly sophisticated, fueled by huge profits on offer.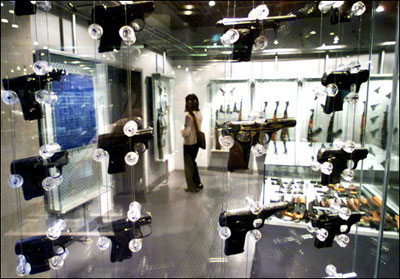 China to crack down on illegal explosive, gun industries. [AFP]
"At present the most important problems are the illegal trafficking in explosives and the relatively rampant activities involving arms and ammunition," Xu told the briefing.
"As the state restrictions on guns is very strict and the legal channels of obtaining guns limited, there is a certain market for illegally manufactured firearms and the technology for making guns has improved," Xu said.
"Legal factories are now providing gun parts to illegal gun makers and traffickers who are making better and more lethal firearms."
The explosives industry faced a similar situation, especially as illegal coal mines seeking to cash in on China's rising demand for energy were turning to illegal traffickers for their explosives, he said.
"There is a large demand for illegally made and trafficked explosives," Xu said.
"A lot of criminals are seeking big profits and they are ignoring risks and brazenly engaging in the illegal activities of making and trafficking explosives."
As part of the crackdown, authorities intend to target the legal manufacturers of explosives to ensure they do not sell their products on the black market.
Chinese courts reported in March the number of criminals sentenced last year rose by 10 percent year-on-year.