Tally of captive-raised pandas grows
(Reuters)
Updated: 2006-06-11 19:30
China's tally of pandas being raised in captivity has swelled to 183 in the space of a few years thanks to improvements in artificial reproduction, the official Xinhua news agency said on Sunday.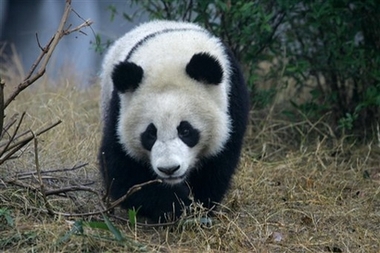 A giant panda walks through the grasslands set for him to forage and play at a panda conservation center in Chengdu, China, Wednesday, Jan. 25, 2006. [AP]
China said just 161 giant pandas being raised in captivity at the end of 2002, according to the results of a national survey carried out that year, but 22 more pandas had been born into captivity since, Xinhua cited a senior official from the State Forestry Administration as saying.
The rise in the number of pandas being born in captivity followed breakthroughs in artificial reproduction methods, according to the official, Zhao Xuemin.
The giant panda is one of the world's most endangered species and is found only in China. An estimated 1,000 pandas live in China's western provinces of Sichuan, Shaanxi and Gansu. The animals are widely regarded as a national treasure.