China, India for joint Kazakh oil bid
(Bloomberg.com)
Updated: 2006-06-11 16:21
China and India plan to make a joint $2bn bid for oil fields in Kazakhstan as the world's two fastest-growing major economies seek to avoid competing against each other, three people with knowledge of the proposal said.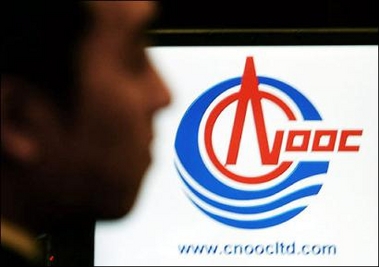 An employee of China National Oil Offshore Company (CNOOC) looks at the company's logo during a press briefing at a hotel in Hong Kong, January 2006. [AP]
Citic Group, Chinn's biggest investment company, and Oil and Natural Gas Corp, India's largest oil producer, may bid for more than 400mn barrels of Kazakh deposits owned by Calgary-based Nations Energy, the people said, asking not to be identified because the information is confidential.
A transaction would hamper efforts by companies such as Russia's Lukoil, which is seeking to acquire supplies in Kazakhstan. The central Asian country, whose 35bn barrels of reserves are twice as large as those in the North Sea, forecasts oil production will triple in the next decade. That would allow the nation to pump more crude than Opec member Venezuela.
"Both the countries have no other way but to go out and look for assets overseas to secure supplies,'' said V Raghuraman, a senior adviser to the Confederation of Indian Industry, the nation's largest industry body. "More often than not, both of us'' end up competing against each other.
China and India consume 11% of the world's oil, up from 9% in 2000, according to BP Plc data. The share used by Europe, Japan and the US has shrunk to 57% from 59% between 2000 and 2004.
China in January signed an agreement with India to boost co-operation, a month after the two nations made their first joint bid, to avoid competition and increased costs for fields. At stake is economic growth that exceeds 9% in both countries, the best among the world's major economies, and improved living conditions for more than a third of the world's people.
China National Petroleum Corp, the nation's biggest oil producer, and Oil and Natural Gas agreed in December to buy Petro-Canada's Syrian assets for about 484mn euros ($624mn).