Hu expresses hopes to visit Japan
(Reuters)
Updated: 2006-06-11 09:15
Chinese President Hu Jintao said on Saturday that, premised on an improvement in bilateral ties, he hoped to visit Japan at an "appropriate time under the right conditions", Japan's Kyodo news agency reported.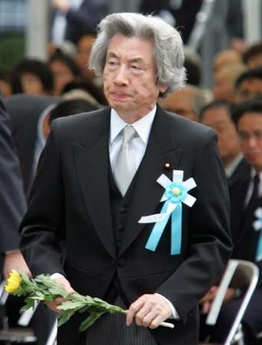 Japan's Prime Minister Junichiro Koizumi offers a chrysanthemum for unidentified war dead at Chidorigafuchi National Tomb in Tokyo May 29, 2006. Koizumi, whose annual visits to a Shinto shrine for war dead have angered China and South Korea, paid a tribute at Chidorigafuchi along with other lawmakers, members of the Imperial Family and foreign diplomats.[Reuters]
The reported remark, which Kyodo said came in talks with Japanese ambassador to China Yuji Miyamoto, is the latest hint of a possible thaw in ties between the Asian neighbours.
Relations between Beijing and Tokyo have been chilled in large part by Japanese Prime Minister Junichiro Koizumi's annual visits to Tokyo's Yasukuni shrine, where some convicted World War Two war criminals are honoured along with Japanese war dead.
Hu and other Chinese leaders have said the shrine visits are a big obstacle to improved ties, although the countries have also been feuding over other issues, including territorial rights, energy resources and mutual suspicions about their military policies.
Kyodo, quoting the Japanese embassy in Beijing, said that Hu told Miyamoto: "China's party and government have steadfastly placed emphasis on China-Japan relations."
Hu added: "It is our hope that current political obstacles will be removed and the relations between the two countries will soon return to a path of healthy and stable expansion."

The Chinese Foreign Ministry on Thursday said China hopes that strained relations between Beijing and Japan will improve, although there are no plans for their leaders to meet on the sidelines of the G-8 summit next month.
Japan is a member of the G-8 and China, which is not, has been invited to participate in discussions.

Hu last met with Japanese Prime Minister Junichiro Koizumi at a regional conference in Jakarta in 2005.