French name-brand Lacoste has brought to court the owner of Beijing's Silk Market Plaza and some of its tenants for selling fake T-shirts with its labels, claiming its trademark was infringed upon.

The French company, La Chemise Lacoste, also has asked for a compensation of 100,000 yuan (12,500 U.S. dollars) from each of the accused.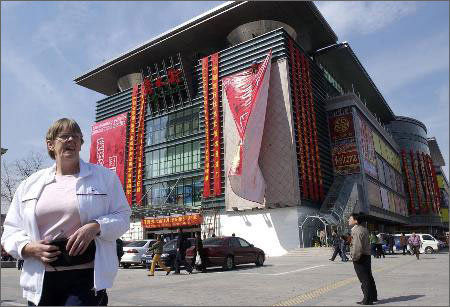 Famous Xiushui Market, also known as Silk Street Market in Beijing attracts thounds of custormers from home and abroad per year.[baidu.com]
This lawsuit was filed after owners of Beijing's retail markets, including the Silk Market Plaza, successor of the famous Xiushui Market, also known as Silk Street Market, signed a deal with European name brands on Wednesday, promising to evict tenants who were found violating the intellectual property rights of luxury name brands from Europe.
EU Ambassador to China Serge Abou has hoped this deal could stem the sale of fake goods in China without sparking a surge in the number of lawsuit.
Sources close to the case told Xinhua on Saturday that the Beijing Xiushui Haosen Clothing Company, owner of the Silk Market Plaza, had been charged with infringing upon Lacoste's trademark together with some of its tenants.
Xiushui Haosen not only failed to stop these tenants from selling counterfeited Lacoste products but also tried to connive with them by providing business premise and other convenience, according to the indictment brought in by the French name brand.
Lacoste claims that a number of tenants have been found selling cheap but fake Lacoste T-shirts with crocodile logos since the Silk Market Plaza was open to business in 2005 and asks the company and each of these tenants to pay a compensation of 100,000 yuan.
Lacoste said that it had sent a letter to Xiushui Haosen in January, requiring the company to clean out all Lacoste counterfeits and make a written apology, but got no reply.
The trademark of Lacoste has been registered in 192 countries and was listed by China's State Administration for Industry and Commerce as a trademark deserving special protection in 1999 and 2000.
The case is being handled by the Second Intermediate People's Court of Beijing. The court did not disclose any information on the development of the case.
Last September, the five global name brands -- Burberry, Chanel, Gucci, Louis Vuitton and Prada, jointly filed a lawsuit against Xiushui Haosen and five of its stall holders and won compensation totaling 100,000 yuan.
That was the first case in China where a market manager was found culpable. It has spurred the desire of foreign firms to resort to Chinese courts to penalize local retail market owners allowing the sale of fake goods on their premise.