The death toll from the continuous rain in southern China that began on May 28 has risen to at least 93, with 11 people reported missing.
Nearly 12 million people in nine provinces, regions and municipalities have been affected by the weather, and at least 560,000 people have been evacuated, the Ministry of Civil Affairs reported on Friday.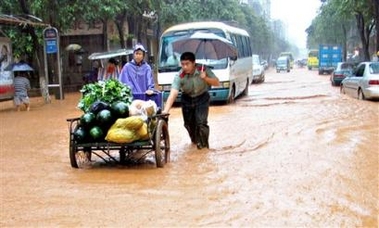 A policeman helps push a cart for a local resident in a flooded street in Wuzhou, a city in south China's Guangxi Zhuang Autonomous Region Thursday, June 8, 2006. Mud-rock flows caused by heavy rain had killed 12 people Thursday in the urban areas of Wuzhou, according to local government official. [AP]
The direct loss has reached 7.66 billion yuan (US$957.5 million) so far, the ministry said.
The disasters have drawn the attention of Premier Wen Jiabao and Vice-Premier Zeng Peiyan, who called for measures to keep the number of deaths, injuries and economic losses to a minimum.
The Ministry of Land and Resources issued an urgent notice requiring local governments to redouble their efforts on prevention and the aftermath of landslides and other geological disasters.
Fujian Province, the hardest hit by the rain and resulting disasters, has been given 40 million yuan (US$5 million) by the ministries of civil affairs and finance.
Since the end of May, 45 people have been killed by floods, landslides and mud-rock flows there.
The downtown area of Jian'ou in the city of Nanping was submerged at one point, with water in some areas as high as 6 metres.
The rain also pelted the Guangxi Zhuang Autonomous Region in South China, where 14 people have died since Monday and 112,000 people have been evacuated, civil affairs officials said.
The Ministry of Civil Affairs said it would send a team to the region on Saturday to help with rescue work.
Wuzhou, a hilly city in the region, has taken the worst battering, with 13 of the deaths and 24 injuries; 16,000 locals were evacuated.
"Try to imagine that one-fifth of a year's average rainfall has been poured on the city in just eight hours," said an official with the autonomous region's civil affairs department who gave only his surname, Pan.
Local weather statistics showed that Wuzhou receives an average 1,500 millimetres of rain per year, but in eight hours on Thursday, the city received 306 millimetres.
But amid the tragedy and difficulty caused by the rain, Leizhou Peninsula in the southwestern part of South China's Guangdong Province has been in the grip of severe drought since the beginning of the year.
"The drought has greatly affected water use for farms and led to insufficient drinking water supplies," said Wang Jinshan, director of the Leizhou Meteorological Bureau.
Friday's high temperature was 34 C, Wang said, adding: "It's the worst drought in the area in 60 years."