Yellow River estuary 'cleanest in years'
(Reuters)
Updated: 2006-06-09 20:27
China's Yellow River delta estuary is the cleanest in years, state media said on Friday, despite recent reports that most of China's second-longest river is so polluted it is unsafe for swimming or drinking.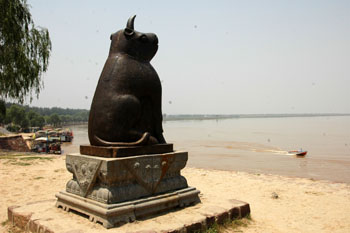 A iron sculpture of rhinoceros located at Huayuankou of Zhengzhou, capital of central China's Henan Province expressed ancient people's wishes for a clean Yellow River. Huayuankou is the beginning of the lower reaches of Yellow River. This photo was taken on June 1, 2006. [newsphoto]
The estuary drains the river, the cradle of early Chinese civilization, into the Bohai Sea off the booming eastern province of Shandong after a winding, 5,400-km (3,300-mile) journey from its source in the Tibet-Qinghai plateau.
Environmental protection efforts and increased rainfall had expanded the river delta's natural wetlands and attracted bird and fish species that fled the polluted waters years before.
"The increasing water flow has contributed significantly to the local eco-system revival," an environmental official was quoted as saying.
The sound report card flies in the face of previous studies that have condemned the river system as a toxic drain for sewage, industrial waste, fertilizer and other pollutants.
Last year, state media reported that as much as 72.3 percent of the Yellow River, which supplies water to 12 percent of China's 1.3 billion people and 15 percent of its farmland, was unsafe for drinking or swimming.
China has pledged billions to clean up the river in keeping with the country's five-year development plan approved in March which urged greater respect for sustainable development.
But spotty regional enforcement and misuse of funds have hampered the recovery of river systems. China's longest river, the Yangtze, was heavily polluted, state media said last month.