55 dead as storms continue in S. China
As powerful storms continue to lash southern China the latest reports confirm at least 55 people have been killed and a further 12 are missing.
Since the end of May southern provinces have been beset with floods and landslides, forcing the evacuation of hundreds of thousands of people.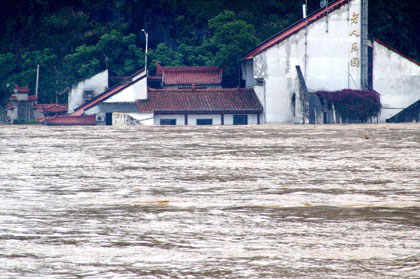 Houses in Nanping, Fujian Province, are submerged in flood water with only roofs noticeable due to continous heavy rains. This picture was taken on June 7, 2006. [Xinhua]


The brunt of the damage has been borne by Fujian, Guangdong, Guizhou, Hunan, Jiangxi, Zhejiang and Chongqing.

"At least 378,000 people have been evacuated and relocated because of the heavy rain," said Li Baojun, an official in charge of disaster relief with the Ministry of Civil Affairs, in a phone interview.

Fujian Province in East China is the hardest hit, with 28 deaths reported since the end of May, he said.

Two other provinces, Guangdong and Guizhou, have reported 11 deaths each.

The continuous rain has caused the biggest flood of the past two decades on the Minjiang River in Fujian Province.

It has also led to a direct economic loss of 2.19 billion yuan (US$274 million) in the province, affecting more than 1.6 million people.

Storms will continue to batter the regions because of the collision of cold and warm air currents, the Central Meteorological Office warned yesterday.

And the Fujian Provincial Meteorological Station has issued the highest warning possible for the coming days.

It said the storms would continue for at least two more days, with some parts of the province receiving at least 100 millimetres of rainfall every 24 hours.

Trains and planes were both hit by the foul weather yesterday.

Six trains on the Yingtan-Xiamen Railway between Jiangxi and Fujian provinces were forced to stop in the morning, after the track bed collapsed in several places due to the heavy rain.

The Nanchang Railway Bureau, which runs the route, sent several thousand workers to the sites.

It was expected to be reopened by 8pm last night.