Taiwan's largest opposition party Kuomintang (KMT) yesterday decided to seek the recall of "president" Chen Shui-bian amid a swirl of corruption scandals embroiling his wife and son-in-law.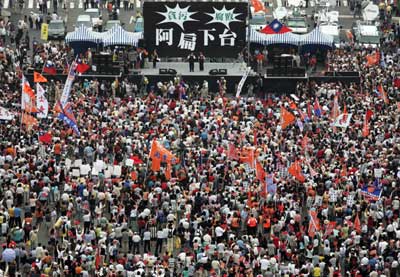 Thousands of Taiwanese protesters gather before a large stage at a rally calling for "president" Chen Shui-bian to step down over an insider-trading scandal involving his son-in-law in Taipei June 3, 2006. The banner at the back of the stage reads: "Ah-bian step down," referring to Chen's nickname. [Reuters]
Tseng Yung-chuan, director of KMT Central Policy Committee, said the party's Central Standing Committee had approved a proposal to call for a "parliamentary" vote to strip Chen of office.
"We can't wait two years to end Taiwan's fear," Tseng said, referring to the time left in Chen's second and last four-year term, which ends in 2008. "We must solve it at once."
"(Chen's) honesty has been cast into doubt from a legal standpoint. He has abused his power and broken the law," he added.
A referendum to recall Chen would require the support of two-thirds of Taiwan's 225-seat "parliament" before it can be presented to the island's voters for approval.
The KMT and its ally, People First Party (PFP), hold 113 seats, while independents have another 12.
Following the KMT meeting held in Taipei yesterday afternoon, KMT Chairman Ma Ying-jeou explained why his party had decided to press forward with the issue.
"For the past week, we have called on 'president' Chen to take responsibility with the least cost to society, and resign voluntarily," he said.
"But we have found that he put the interests of the party above those of society."
The KMT leader denied that the proposed recall is a power struggle between his party and the ruling Democratic Progressive Party (DPP), saying "it's honesty versus corruption, competence versus incompetence."
Xu Shiquan, vice-chairman of the Beijing-based National Society of Taiwan Studies, said the KMT decision to seek the ouster of scandal-hit Chen reflects the will of the people.
"As a growing number of people support Chen's removal, Ma, who used to oppose the recall move, came to recognize it was time to change course and put more pressure on Chen and the DPP," he told China Daily.
The latest Taiwan media survey suggests that 44 per cent of local people want Chen to resign over the scandals, a jump of about 10 percentage points in two weeks.
Xu predicted that the KMT faces an extremely difficult mission to oust Chen, because of the high threshold for the "parliamentary" vote as well as the DPP's determination to defend Chen.
"But things may change soon if new developments in the scandal prove Chen to be a purely negative asset that threatens to drag the DPP into disaster," the researcher said.
"By then, it cannot be ruled out that some DPP 'lawmakers' may abandon Chen to either press for his resignation or throw their weight behind the opposition."
Chen has come under growing opposition pressure to resign after his son-in-law Chao Chien-ming was detained last month on suspicion of insider share trading.