China reports new bird flu case
(Xinhua)
Updated: 2006-06-08 06:18
China has discovered a new H5N1 bird flu case in poultry in the western Xinjiang Uygur Autonomous Region, the Ministry of Agriculture (MOA) said on Wednesday.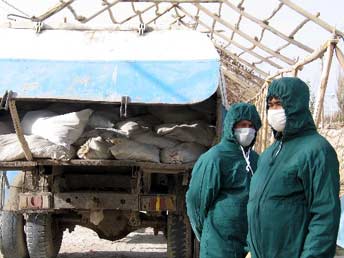 Epidemic prevention workers prepare to put killed poultry on trucks in Hetian of northwest China's Xinjiang Uygur Autonomous Region, Nov. 15, 2005. Highly pathogenic bird flu epidemic was reported in Hetian City of the Xinjiang Uygur Autonomous Region, the Chinese Ministry of Agriculture said on Thursday. [Xinhua]


The case was identified after domestic poultry at a farm in Xinjiang's Hetian County died of an unclear illness.

The dead poultry were confirmed to have been infected with the bird flu virus on Wednesday after testing at the national bird flu laboratory.

The MOA has sent expert teams to Hetian to control any possible outbreak.

An emergency mechanism has been launched and the local veterinary departments have set up examination stations to disinfect people and vehicles into and out of the affected area.