9.5 million sit college exam this year
By Zhu Zhe (China Daily)
Updated: 2006-06-07 05:52
Today's college entrance exam is often likened to thousands of people and horses trying to cross a narrow footbridge.
This year a record figure of 9.5 million high-school graduates will sit down for the first day of tests, each vying for one of only 2.6 million undergraduate places.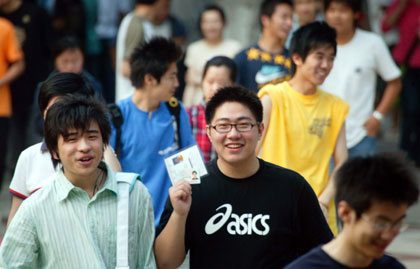 Students smile when they went to schools to familiarize themselves with the test rooms in Nanjing, Jiangsu Province June 6, 2006. [newsphoto]


With the rest of their lives ahead of them, it's a tense day. And one that 9.5 million families have been building up to.

Concerned parents will have taken time off work to cook for their revising children. They'll have mapped out the route to the exam hall, booked hotel rooms nearby and looked out cabs with lucky number plates.

Teachers have been busy answering last-minute queries, and many students will have suffered sleepless nights as tension builds towards the big day.

But not everyone is that nervous. Eighteen-year-old Kong Lingqiang turned up at the Dongdan Sports Centre in central Beijing yesterday afternoon, basketball in hand.

Although he will begin the two-day exam today, Kong, a graduate from Guangqumen Middle School, played basketball with three of his friends for about an hour, showing no signs of pre-exam nerves.

Asked about the looming exam the fair-skinned boy paused for a few seconds, saying he fully realized the importance of the test and that the two-day exam would decide his future life, and that he would not let his parents down. "But last-minute revision won't give you an additional point, and nervousness will make things worse," he said. "Playing basketball helps me relax."

He said he planned to watch TV in the evening, before heading to bed at about 9:30pm. "And I'm looking forward to the World Cup after the exam," he added with excitement.