In a drive to rein in the building boom, the Ministry of Land and Resources has called for prompt investigations into developers suspected of breaking land laws.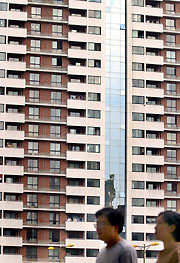 Residents in Nanjing, capital of East China's Nanjing Province, walk past a newly-constructed apartment building May 10, 2005. [newsphoto]

The National Bureau of Statistics' latest figures reveal that China saw 1.8 trillion yuan (US$222 billion) invested in development in cities and towns in the first four months of 2006.

Among the investments, "a large quantity of funds has been put into land projects, including many illegal acquisitions," said a ministry official at a national conference on land law enforcement.

In some places, the number of illegal acquisition cases account for 60 per cent, or even 90 per cent, of the total land use since September 2004, said the official.

Local land resources departments were ordered to deal with at least three illegal land acquisition cases in June, ministry officials said. A total of eight cases should be handled by the end of the year.

Major officials in charge of land resources at local level could face punishment for their failure to supervise the situation properly, ministry officials added.

An investigation conducted by the ministry in 2005 showed that the number and total area of illegal land acquisition cases accounted 63.8 per cent and 52.8 per cent respectively of newly-allocated construction projects in 70 districts in 15 cities.

The fact that many industrial projects are transferred from the east to the west helps increase the number of large-scale illegal land acquisition cases in western China in a "step-by-step way," officials said.

To cool down the overheated real estate market, the central government has announced a package of policies, including raising mortgage down payments from 20 to 30 per cent on units larger than 90 square metres, and the halt of land supply for luxury villas.

In addition the Ministry of Supervision has been invited, for the first time, to supervise the investigation of illegal land acquisition cases, reports said.

The ministry will handle a batch of typical cases, Chen Changzhi, vice-minister of supervision, said at a mobilization conference on May 29.