A 2-month-old Chinese boy was recovering Tuesday after surgery to remove an unusually well-formed third arm.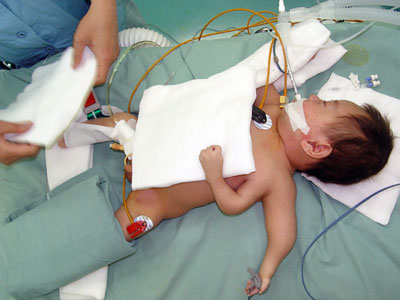 A baby boy, who was born with three arms, lies on an operating table at the Shanghai Children's Medical Center in this handout photo dated June 6, 2006. Surgeons in Shanghai on Tuesday said they successfully removed a third arm from a 66-day-old infant. [Reuters]
Neither of the boy's two left arms was fully functional, but surgeons decided to remove the one growing closer to his chest after tests showed it was less developed.
Dr. Chen Bochang, the chief surgeon, said the three-hour operation at Shanghai Children's Medical Center went much better than expected.
"We found the nerves and blood vessels for the arm were formed just as they would be for a normal arm," Chen told reporters.
Chen said the baby will require long-term physical therapy to gain function in his remaining hand, which has no palm and flexes in either direction.
"We're hoping to exchange information with doctors who've dealt with similar cases anywhere in the world," said Chen, head of the orthopedics department at Shanghai Children's Medical Center. "This is so rare that we have virtually no information to go on."
Liu's mother said she was relieved the surgery was over but worried for her son's future.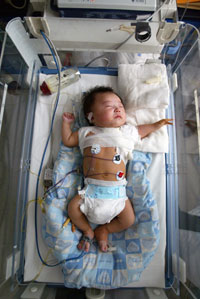 A baby boy who was born with three arms lies in a bed in the intensive care unit after a two-and-a-half-hour surgery at the Shanghai Children's Medical Center June 6, 2006. [Reuters]
"I'm very happy but there are some fears that I just can't let go," said the woman, who asked that her name not be used to maintain her privacy. "I worry about how he will grow, whether this will have a big impact on his growth."
The parents are farmers from rural Anhui province, west of Shanghai.
Chen said doctors don't know what causes such additional limbs, although many speculate they start out as limbs of a conjoined twin that never developed. He ruled out environmental factors such as birth defect-causing pollution, saying that couldn't fully explain similar cases elsewhere.
Chen said no reliable figures exist on the frequency of such cases, partly because many fetuses with more than four limbs are aborted or miscarried.
In most cases where the fetus survives, it's clear which limb is less developed and should be amputated. Junjie's case was especially rare because both left arms were almost equally developed. He said doctors decided to remove the one closest to the chest because it did not fully extend.
Because of shortfalls in China's rural health system, Liu Junjie's mother never received an ultrasound before giving birth, Chen said.