Internationally renowned Hong Kong actor Andy Lau, who is now under fire on suspicions of divulging the secrets of bianlian, a traditional facemask performance art form, to foreigners has cleared his name, according to a report from the Chongqing Morning Paper.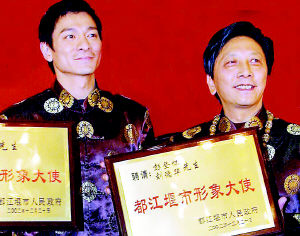 Hong Kong actor Andy Lau (L) is seen with his teacher Peng Denghui in this undated file photo. [File Photo]
"Lau would never divulge the stunt to foreigners without my approval because we have signed a contract," Lau's teacher Peng Denghui told the newspaper.
Peng says a clause included in their contract prohibits Lau from performing bianlian and also from teaching other students.
Bianlian is a traditional art form that is very popular in the western province of Sichuan. Performers can change their masks within seconds. Bianlian methods are fiercely guarded by performers and passed down through generations. The secrets are rarely taught outside the family and never to foreigners.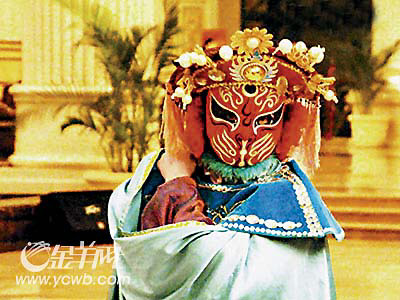 Bianlian, a traditional facemask performance art form in China's Sichuan province. [ycwb.com]
According to the Yangcheng Evening News, the stunning art form is performed by non-Chinese in Japan, Singapore and Germany, arousing suspicions that someone has been teaching bianlian to foreigners.
The paper went on to imply that a mainland actor was to blame, but the source was unidentified and no names were given.
Lau started studying bianlian in 2000 and his reputation for travel and his easy access to foreigners have led to speculation that he is the one to blame for divulging the stunt, which the paper called a second-class national secret.
Peng says that it's ridiculous to call the stunt a second-class national secret. "It's more or less an industry secret," he says. "There is no relevant government ordinance to indicate that bianlian is a second-class national secret. Its development is mainly dependent on artists' professional ethics."

Hong Kong actor Andy Lau. [AFP]
"The only chance for Lau to perform in the public is after I am dead," he says.
Peng told the Chongqing Morning News that it has been six years became Lau was his student. "He is hard-working and does a very good job. He can change six masks so far," " says Peng proudly.
Peng says bianlian is similar to martial arts in that they are both Chinese legacies. "We can't keep it away from the public. Even though foreigners have learned it, it is also an invaluable Chinese art."
Some folk artists have expressed concern about the traditional art form.
According to Sichuan Opera School director Zhao Shuqin's wife, he thinks the secrets "shouldn't be passed on to foreigners. What makes me upset is that even someone in dirty clothes will perform it. They will wreck the tradition."
According to Peng, the man most likely to have exposed the secret is a Cantonese, who learned it in Sichuan and tried to earn fame by delivering speeches on the art form.