Cofferdam of Three Gorges demolished in seconds
(Xinhua)
Updated: 2006-06-06 16:11
THREE GORGES DAM SITE, Hubei Province -- Demolition of the last cofferdam protecting the just-completed main wall of the Three Gorges Dam, the world's largest, started at 4:00 on Tuesday afternoon in the middle reaches of the Yangtze River, China's longest, with explosives enough to topple down 400 10-storey buildings.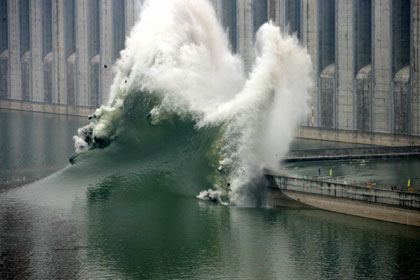 This picture captures a moment when the demolition explosion was carried out June 6, 2006. [Xinhua]


The operation took about 12 seconds, causing nearly 190,000 cubic meters of concrete fragments from the upper-30-meter section of the cofferdam to tumble into the river.
The removal of the cofferdam means the main wall of the Three Gorges Project will formally begin its role in flood control, which will be two years ahead of the schedule.

The world's largest dam in Three Gorges area, central China's Hubei Province, was completed on May 20, signifying a milestone accomplishment of major structure of the mammoth Three Gorges water control project that aims to tame the flood-prone Yangtze River.

Li Yong'an, general manager of China Yangtze River Three Gorges Development Corporation, said blasting away the concrete cofferdam and the Three Gorges Reservoir's water storage will spark off no severe geological disasters.

The timed dismantling was declared a complete success by Li.

"Three Gorges Dam will remain unaffected and safe even if there might be earthquakes," said the general manager.

The entire Three Gorges Dam, which was put to holding back water following the successful dismantling of the cofferdam's upper part, will play a role in this year's flood control efforts on the Yangtze River.

And the water level of the Three Gorges Reservoir will rise from the current height of 135 meters to 156 meters after the summer flood season is over, and then rise further to 175 meters.

"It is unavoidable to trigger earthquakes by keeping the water level in the Three Gorges Reservoir at a high level, but the aftermath won't be catastrophic," said Li.