Doctors remove third arm from boy
(AP)
Updated: 2006-06-06 12:45
SHANGHAI - Doctors on Tuesday successfully removed an unusually well-formed third arm from a 2-month-old Chinese boy.

Neither of the boy's two left arms is fully functional, but doctors decided to remove the one growing closer to his chest after tests showed it was less developed, said Dr. Chen Bochang, head of the orthopedics department at Shanghai Children's Medical Center.

"The surgery was quite successful," Chen said following the three-hour operation.
"Now we're just waiting for the patient to wake up.

The boy, identified only as "Jie-jie," will require long-term physical therapy to build strength in the hand on his remaining arm, Chen said.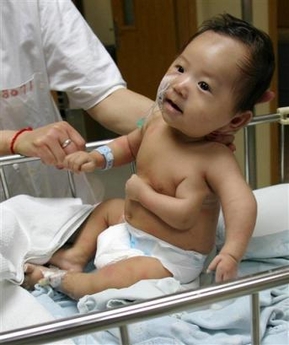 A doctor inspects a 59-day-old baby boy who was born with three arms, at a hospital in Shanghai Monday, May 29, 2006. Doctors are checking the boy's physical condition before deciding whether to remove his third arm. [AP Photo]